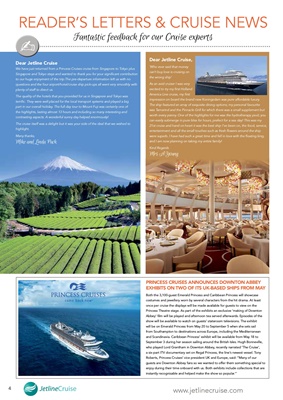 4 READER'S LETTERS & CRUISE NEWS
Fantastic feedback for our Cruise experts
Dear Jetline Cruise
We have just returned from a Princess Cruises cruise from Singapore to Tokyo plus
Singapore and Tokyo stays and wanted to thank you for your significant contribution
to our huge enjoyment of the trip.the pre-departure information left us with no
questions and the four airport/hotel/cruise ship pick-ups all went very smoothly with
plenty of staff to direct us.
The quality of the hotels that you provided for us in Singapore and Tokyo was
terrific. They were well placed for the local transport systems and played a big
part in our overall holiday. The full day tour to Mount Fuji was certainly one of
the highlights, lasting almost 13 hours and including so many interesting and
contrasting aspects. A wonderful sunny day helped enormously!
The cruise itself was a delight but it was your side of the deal that we wished to
highlight.
Many thanks,
Mike and Linda Pack
PRINCESS CRUISES ANNOUNCES DOWNTON ABBEY
EXHIBITS ON TWO OF ITS UK-BASED SHIPS FROM MAY
Both the 3,100-guest Emerald Princess and Caribbean Princess will showcase
costumes and jewellery worn by several characters from the hit drama. At least
once per cruise the displays will be made available for guests to view on the
Princess Theatre stage. As part of the exhibits an exclusive 'making of Downton
Abbey' film will be played and afternoon tea served afterwards. Episodes of the
show will be available to watch on guests' stateroom televisions. The exhibit
will be on Emerald Princess from May 20 to September 5 when she sets sail
from Southampton to destinations across Europe, including the Mediterranean
and Scandinavia. Caribbean Princess' exhibit will be available from May 18 to
September 3 during her season sailing around the British Isles. Hugh Bonneville,
who played Lord Grantham in Downton Abbey, recently narrated 'The Cruise',
a six-part ITV documentary set on Regal Princess, the line's newest vessel. Tony
Roberts, Princess Cruises' vice president UK and Europe, said: "Many of our
guests are Downton Abbey fans so we wanted to offer them something special to
enjoy during their time onboard with us. Both exhibits include collections that are
instantly recognisable and helped make the show so popular."
Dear Jetline Cruise,
'Who ever said that money
can't buy love is cruising on
the wrong ship'
As an avid cruiser I was very
excited to try my first Holland
America Line cruise, my first
impression on board the brand new Koningsdam was pure affordable luxury.
The ship featured an array of exquisite dining options; my personal favourite
was Tamarind and the Pinnacle Grill for which there was a small supplement but
worth every penny. One of the highlights for me was the hydrotherapy pool; you
can easily submerge in pure bliss for hours, prefect for a sea day! This was my
21st cruise and hand on heart it was the best ship I've been on, the food, service,
entertainment and all the small touches such as fresh flowers around the ship
were superb. I have had such a great time and fell in love with the floating king,
and I am now planning on taking my entire family!
Kind Regards
Mrs A Young