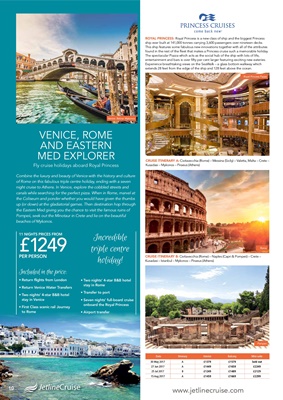 ROYAL PRINCESS: Royal Princess is a new class of ship and the biggest Princess
ship ever built at 141,000 tonnes carrying 3,600 passengers over nineteen decks.
This ship features some fabulous new innovations together with all of the attributes
found in the rest of the fleet that makes a Princess cruise such a memorable holiday.
The spectacular Piazza which acts as the social hub of the ship with lots of life,
entertainment and bars is over fifty per cent larger featuring exciting new eateries.
Experience breathtaking views on the SeaWalk - a glass bottom walkway which
extends 28 feet from the edge of the ship and 128 feet above the ocean.
Date Itinerary Interior Balcony Mini-suite
30 May 2017 A £1379 £1579 Sold out
27 Jun 2017 A £1449 £1659 £2249
25 Jul 2017 B £1249 £1489 £2129
15 Aug 2017 A £1459 £1669 £2299
VENICE, ROME
AND EASTERN
MED EXPLORER
Fly cruise holidays aboard Royal Princess
Combine the luxury and beauty of Venice with the history and culture
of Rome on this fabulous triple centre holiday, ending with a seven
night cruise to Athens. In Venice, explore the cobbled streets and
canals while searching for the perfect pizza. When in Rome, marvel at
the Coliseum and ponder whether you would have given the thumbs
up (or down) at the gladiatorial games. Then destination hop through
the Eastern Med giving you the chance to visit the famous ruins of
Pompeii, seek out the Minotaur in Crete and lie on the beautiful
beaches of Mykonos.
Included in the price:
• Return flights from London
• Return Venice Water Transfers
• Two nights' 4-star B&B hotel
stay in Venice
• First Class scenic rail Journey
to Rome
11 NIGHTS PRICES FROM
£1249PER PERSON
10
Venice. Below: Mykonos
Incredible
triple centre
holiday!
Royal Princess Piazza
CRUISE ITINERARY A: Civitavecchia (Rome) - Messina (Sicily) - Valetta, Malta - Crete -
Kusadasi - Mykonos - Piraeus (Athens)
Pompeii
Rome
• Two nights' 4-star B&B hotel
stay in Rome
• Transfer to port
• Seven nights' full-board cruise
onboard the Royal Princess
• Airport transfer
CRUISE ITINERARY B: Civitavecchia (Rome) - Naples (Capri & Pompeii) - Crete -
Kusadasi - Istanbul - Mykonos - Piraeus (Athens)