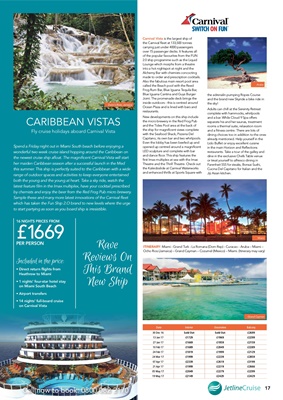 Carnival Vista is the largest ship of
the Carnival fleet at 133,500 tonnes
carrying just under 4000 passengers
over 15 passenger decks. It features all
of the popular favourites from the FUN
2.0 ship programme such as the Liquid
Lounge which morphs from a theatre
into a hot nightspot at night and the
Alchemy Bar with chemists concocting
made to order and prescription cocktails.
Also the fabulous main resort pool area
called the Beach pool with the Reed
Frog Rum Bar, Blue Iguana Tequila Bar,
Blue Iguana Cantina and Guys Burger
Joint. The promenade deck brings the
inside outdoors - this is centred around
Ocean Plaza and is lined with bars and
restaurants.
New developments on this ship include
the micro brewery in the Red Frog Pub
and the Tides Pool area at the back of
the ship for magnificent views complete
with the Seafood Shack, Pizzeria Del
Capitano, its own bar and two whirlpools.
Even the lobby has been beefed up and
opened up centred around a magnificent
LED sculpture and complete with bar
and dance floor. This ship features the
first Imax multiplex at sea with the Imax
Theatre and the Thrill Theatre. Check out
the Kaleidoslide at Carnival Waterworks
and enhanced thrills at Sports Square with
Date Interior Oceanview Balcony
30 Dec 16 Sold Out Sold Out £2699
13 Jan 17 £1729 £1969 £2299
27 Jan 17 £1669 £1959 £2159
10 Feb 17 £1689 £2049 £2289
24 Feb 17 £1819 £1999 £2129
24 Mar 17 £1999 £2239 £2859
07 Apr 17 £2339 £2619 £3199
21 Apr 17 £1999 £2219 £2666
05 May 17 £2049 £2279 £2299
19 May 17 £2149 £2429 £2429
CARIBBEAN VISTAS
Fly cruise holidays aboard Carnival Vista
Spend a Friday night out in Miami South beach before enjoying a
wonderful two week cruise island hopping around the Caribbean on
the newest cruise ship afloat. The magnificent Carnival Vista will start
her maiden Caribbean season after a successful launch in the Med
this summer. This ship is perfectly suited to the Caribbean with a wide
range of outdoor spaces and activities to keep everyone entertained
both the young and the young at heart. Take a sky ride, watch the
latest feature film in the Imax multiplex, have your cocktail prescribed
by chemists and enjoy the beer from the Red Frog Pub micro brewery.
Sample these and many more latest innovations of the Carnival fleet
which has taken the Fun Ship 2.O brand to new levels where the urge
to start partying as soon as you board ship is irresistible.
the adrenalin pumping Ropes Course
and the brand new Skyride a bike ride in
the sky!
Adults can chill at the Serenity Retreat
complete with hammocks, whirlpools
and a bar. While Cloud 9 Spa offers
separate his and her saunas, treatment
rooms a thermal suite, relaxation room
and a fitness centre. There are lots of
dining choices too in addition to the ones
already mentioned. Help yourself in the
Lido Buffet or enjoy excellent cuisine
in the main Horizon and Reflections
restaurants. Take a tour of the galley and
dine in the exclusive Chefs Table venue
or treat yourself to alfresco dining in
Farenheit 555 for steaks, Bonsai Sushi,
Cucina Del Capitano for Italian and the
Jiji Asian kitchen.
Included in the price:
• Direct return flights from
Heathrow to Miami
• 1 nights' four-star hotel stay
on Miami South Beach
• Airport transfers
• 14 nights' full-board cruise
on Carnival Vista
16 NIGHTS PRICES FROM
£16 69PER PERSON
Dunn's River, Jamaica
Rave
Reviews On
This Brand
New Ship
ITINERARY: Miami - Grand Turk - La Romana (Dom Rep) - Curacao - Aruba - Miami -
Ocho Rios (Jamaica) - Grand Cayman - Cozumel (Mexico) - Miami. (Itinerary may vary)
Grand Cayman
Miami
Aruba 17
Call now to book: 0800 082 2170