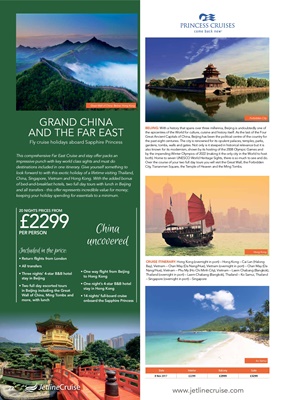 Date Interior Balcony Suite
8 Nov 2017 £2299 £2999 £3299
GRAND CHINA
AND THE FAR EAST
Fly cruise holidays aboard Sapphire Princess
This comprehensive Far East Cruise and stay offer packs an
impressive punch with key world class sights and must do
destinations included in one itinerary. Give yourself something to
look forward to with this exotic holiday of a lifetime visiting Thailand,
China, Singapore, Vietnam and Hong Kong. With the added bonus
of bed-and-breakfast hotels, two full day tours with lunch in Beijing
and all transfers - this offer represents incredible value for money;
keeping your holiday spending for essentials to a minimum.
Included in the price:
• Return flights from London
• All transfers
• Three nights' 4-star B&B hotel
stay in Beijing
• Two full day escorted tours
in Beijing including the Great
Wall of China, Ming Tombs and
more, with lunch
20 NIGHTS PRICES FROM
£2299PER PERSON
22
Great Wall of China. Below: Hong Kong
Forbidden City
China
uncovered
BEIJING: With a history that spans over three millennia, Beijing is undoubtedly one of
the epicentres of the World for culture, cuisine and history itself. As the last of the Four
Great Ancient Capitals of China, Beijing has been the political centre of the country for
the past eight centuries. The city is renowned for its opulent palaces, temples, parks,
gardens, tombs, walls and gates. Not only is it steeped in historical relevance but it is
also known for its modernism, shown by its hosting of the 2008 Olympic Games and
by the impending Winter Olympics of 2022 (making it the only city in the World to host
both). Home to seven UNESCO World Heritage Sights, there is so much to see and do.
Over the course of your two full day tours you will visit the Great Wall, the Forbidden
City, Tiananmen Square, the Temple of Heaven and the Ming Tombs.
Hong Kong
CRUISE ITINERARY: Hong Kong (overnight in port) - Hong Kong - Cai Lan (Halong
Bay), Vietnam - Chan May (Da Nang/Hue), Vietnam (overnight in port) - Chan May (Da
Nang/Hue), Vietnam - Phu My (Ho Chi Minh City), Vietnam - Laem Chabang (Bangkok),
Thailand (overnight in port) - Laem Chabang (Bangkok), Thailand - Ko Samui, Thailand
- Singapore (overnight in port) - Singapore
Ko Samui
• One way flight from Beijing
to Hong Kong
• One night's 4-star B&B hotel
stay in Hong Kong
• 14 nights' full-board cruise
onboard the Sapphire Princess