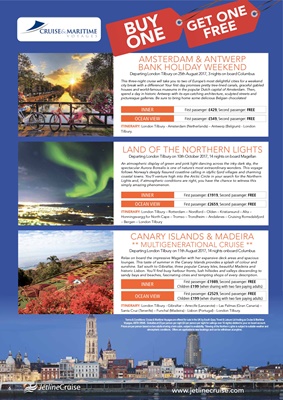 Terms & Conditions: Cruise & Maritime Voyages are offered for sale in the UK by South Quay Travel & Leisure Ltd trading as Cruise & Maritime
Voyages. ABTA V9945. Gratuities at £5 per person per night (£4 per person per night for sailings over 16 nights) debited to your on board account.
Prices are per person based on two adults sharing a twin cabin, subject to availability. *Viewing of the Northern Lights is subject to suitable weather and
atmospheric conditions. Offers are applicable to new bookings and can be withdrawn at anytime.
AMSTERDAM & ANTWERP
BANK HOLIDAY WEEKEND
Departing London Tilbury on 25th August 2017, 3 nights on board Columbus
This three-night cruise will take you to two of Europe's most delightful cities for a weekend
city break with a difference! Your first day promises pretty tree-lined canals, graceful gabled
houses and world-famous museums in the popular Dutch capital of Amsterdam. Then,
spend a day in historic Antwerp with its eye-catching architecture, sculpted streets and
picturesque galleries. Be sure to bring home some delicious Belgian chocolates!
ITINERARY: London Tilbury - Amsterdam (Netherlands) - Antwerp (Belgium) - London
Tilbury. OCEAN VIEW First passenger: £549, Second passenger: FREE
INNER First passenger: £429, Second passenger: FREE
GET ONE
FREE
BUY
ONE
LAND OF THE NORTHERN LIGHTS
Departing London Tilbury on 10th October 2017, 14 nights on board Magellan
An atmospheric display of green and pink light dancing across the inky dark sky, the
spectacular Aurora Borealis is one of nature's most extraordinary wonders. This voyage
follows Norway's deeply fissured coastline calling in idyllic fjord villages and charming
coastal towns. You'll venture high into the Arctic Circle in your search for the Northern
Lights and, if atmospheric conditions are right, you have the chance to witness this
simply amazing phenomenon.
ITINERARY: London Tilbury - Rotterdam - Nordford - Olden - Kristiansund - Alta -
Honningsvargg for North Cape - Tromso - Trondheim - Andalsnes - Cruising Romsdalsfjord
- Bergen - London Tilbury
OCEAN VIEW First passenger: £2659, Second passenger: FREE
INNER First passenger: £1919, Second passenger: FREE
CANARY ISLANDS & MADEIRA
** MULTIGENERATIONAL CRUISE **
Departing London Tilbury on 11th August 2017, 14 nights onboard Columbus
Relax on board the impressive Magellan with her expansive deck areas and spacious
lounges. This taste of summer in the Canary Islands provides a splash of colour and
sunshine. Sail south to Gibraltar, three popular Canary Isles, beautiful Madeira and
historic Lisbon. You'll find busy harbour fronts, lush hillsides and valleys descending to
sandy bays and beaches, fascinating cities and tempting shops of every description.
ITINERARY: London Tilbury - Gibraltar - Arrecife (Lanzarote) - Las Palmas (Gran Canaria) -
Santa Cruz (Tenerife) - Funchal (Madeira) - Lisbon (Portugal) - London Tilbury.
INNER
First passenger: £1989, Second passenger: FREE
Children £199 (when sharing with two fare paying adults)
OCEAN VIEW
First passenger: £2529, Second passenger: FREE
Children £199 (when sharing with two fare paying adults)
6