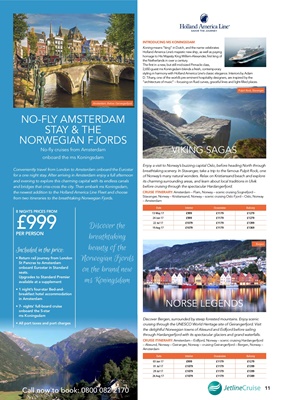 NO-FLY AMSTERDAM
STAY & THE
NORWEGIAN FJORDS
No-fly cruises from Amsterdam
onboard the ms Koningsdam
Conveniently travel from London to Amsterdam onboard the Eurostar
for a one night stay. After arriving in Amsterdam enjoy a full afternoon
and evening to explore this charming capital with its endless canals
and bridges that criss-cross the city. Then embark ms Koningsdam,
the newest addition to the Holland America Line Fleet and choose
from two itineraries to the breathtaking Norwegian Fjords.
Included in the price:
• Return rail journey from London
St Pancras to Amsterdam
onboard Eurostar in Standard
seats.
Upgrades to Standard Premier
available at a supplement
• 1 night's four-star Bed-andbreakfast
hotel accommodation
in Amsterdam
• 7- nights' full-board cruise
onboard the 5-star
ms Koningsdam
• All port taxes and port charges
8 NIGHTS PRICES FROM
£999PER PERSON
INTRODUCING MS KONINGSDAM
Koning means "king" in Dutch, and the name celebrates
Holland America Line's majestic new ship, as well as paying
homage to His Majesty King Willem-Alexander, first king of
the Netherlands in over a century.
The first in a new, but still mid-sized Pinnacle class,
2,650-guest ms Koningsdam blends a fresh, contemporary
styling in harmony with Holland America Line's classic elegance. Interiors by Adam
D. Tihany, one of the world's pre-eminent hospitality designers, are inspired by the
"architecture of music" - focusing on fluid curves, graceful lines and light-filled places.
Amsterdam. Below: Geirangerfjord
Discover the
breathtaking
beauty of the
Norwegian Fjords
on the brand new
ms Koningsdam
Date Interior Oceanview Balcony
13 May 17 £999 £1179 £1279
24 Jun 17 £999 £1179 £1279
22 Jul 17 £1079 £1179 £1399
19 Aug 17 £1079 £1179 £1369
11
Call now to book: 0800 082 2170
VIKING SAGAS
Enjoy a visit to Norway's buzzing capital Oslo, before heading North through
breathtaking scenery. In Stavanger, take a trip to the famous Pulpit Rock, one
of Norway's many natural wonders. Relax on Kristiansand beach and explore
its charming surrounding areas, and learn about local traditions in Ulvik
before cruising through the spectacular Hardangerfjord.
CRUISE ITINERARY: Amsterdam - Flam, Norway - scenic cruising Sognefjord -
Stavanger, Norway - Kristiansand, Norway - scenic cruising Oslo Fjord - Oslo, Norway
- Amsterdam
Date Interior Oceanview Balcony
03 Jun 17 £999 £1179 £1279
01 Jul 17 £1079 £1179 £1399
29 Jul 17 £1079 £1179 £1399
26 Aug 17 £1079 £1179 £1389
NORSE LEGENDS
Discover Bergen, surrounded by steep forested mountains. Enjoy scenic
cruising through the UNESCO World Heritage site of Geirangerfjord. Visit
the delightful Norwegian towns of Alesund and Eidfjord before sailing
through Hardangerfjord with its spectacular glaciers and grand waterfalls.
CRUISE ITINERARY: Amsterdam - Eidfjord, Norway - scenic cruising Hardangerfjord
- Alesund, Norway - Geiranger, Norway - cruising Geirangerfjord - Bergen, Norway -
Amsterdam
Pulpit Rock, Stavenger
Bergen