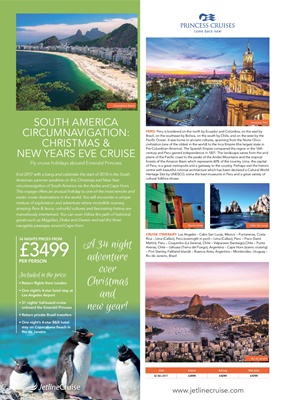 Date Interior Balcony Mini-Suite
02 Dec 2017 £3499 £4299 £4799
SOUTH AMERICA
CIRCUMNAVIGATION:
CHRISTMAS &
NEW YEARS EVE CRUISE
Fly cruise holidays aboard Emerald Princess
End 2017 with a bang and celebrate the start of 2018 in the South
American summer sunshine on this Christmas and New Year
circumnavigation of South America via the Andes and Cape Horn.
This voyage offers an unusual holiday to one of the most remote and
exotic cruise destinations in the world. You will encounter a unique
mixture of exploration and adventure where incredible scenery,
amazing flora & fauna, colourful cultures and fascinating history are
marvellously intertwined. You can even follow the path of historical
greats such as Magellan, Drake and Darwin and sail the three
navigable passages around Cape Horn.
Included in the price:
• Return flights from London
• One night's 4-star hotel stay at
Los Angeles Airport
• 31 nights' full-board cruise
onboard the Emerald Princess
• Return private Brazil transfers
• One night's 4-star B&B hotel
stay on Copacabana Beach in
Rio de Janeiro
34 NIGHTS PRICES FROM
£3499PER PERSON
24
Copacabana Beach
Buenos Aires Cabo San Lucas
Arequipa, Peru
PERU: Peru is bordered on the north by Ecuador and Colombia, on the east by
Brazil, on the southeast by Bolivia, on the south by Chile, and on the west by the
Pacific Ocean. It was home to ancient cultures, spanning from the Norte Chico
civilization (one of the oldest in the world) to the Inca Empire (the largest state in
Pre-Columbian America). The Spanish Empire conquered the region in the 16th
century and Peru gained independence in 1821. The landscape varies from the arid
plains of the Pacific coast to the peaks of the Andes Mountains and the tropical
forests of the Amazon Basin which represents 60% of the country. Lima, the capital
of Peru, is a great metropolis and a gateway to the country. Perhaps visit the historic
centre with beautiful colonial architecture which has been declared a Cultural World
Heritage Site by UNESCO, some the best museums in Peru and a great variety of
cultural folklore shows.
CRUISE ITINERARY: Los Angeles - Cabo San Lucas, Mexico - Puntarenas, Costa
Rica - Lima (Callao), Peru (overnight in port) - Lima (Callao), Peru - Pisco (Saint
Martin), Peru - Coquimbo (La Serena), Chile - Valparaiso (Santiago),Chile - Punta
Arenas, Chile - Ushuaia (Tierra del Fuego), Argentina - Cape Horn (scenic cruising)
- Port Stanley, Falkland Islands - Buenos Aires, Argentina - Montevideo, Uruguay -
Rio de Janeiro, Brazil
Rio de Janeiro
A 34 night
adventure
over
Christmas
and
new year!