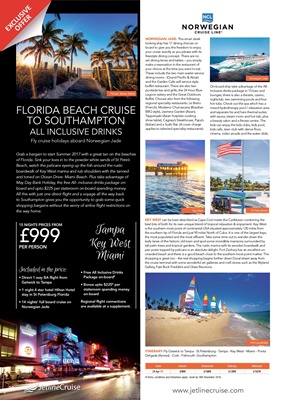 NORWEGIAN JADE: This smart sleek
looking ship has 17 dining choices on
board to give you the freedom to enjoy
your cruise exactly as you please with its
freestyle dining concept. There are no
set dining times and tables - you simply
make a reservation in the restaurant of
your choice at the time you want to eat.
These include the two main waiter service
dining rooms - (Grand Pacific & Alizar)
and the Garden Cafe self service style
buffet restaurant. There are also two
poolside bar and grills; the 24 Hour Blue
Lagoon eatery and the Great Outdoors
Buffet. Choose also from the following
regional speciality restaurants: Le Bistro
(French), Moderno Churrascaria (Brazilian
BBQ style), Jasmine Garden (Asian),
Teppenyaki (Asian hotplate cooking
show table), Cagney's Steakhouse, Papa's
(Italian) and a Sushi Bar. (A cover charge
applies to selected speciality restaurants).
Date Interior Oceanview Balcony Minisuite
29 Apr 17 £999 £1099 £1299 £1679
# Terms, conditions and limitations apply - book by 18th November 2016.
FLORIDA BEACH CRUISE
TO SOUTHAMPTON
ALL INCLUSIVE DRINKS
Fly cruise holidays aboard Norwegian Jade
Grab a bargain to start Summer 2017 with a great tan on the beaches
of Florida. Sink your toes in to the powder white sands of St Pete's
Beach, watch the pelicans eyeing up the fish around the rustic
boardwalk of Key West marina and rub shoulders with the tanned
and toned on Ocean Drive- Miami Beach. Plus take advantage of
May Day Bank Holiday, the free All- inclusive drinks package onboard
and upto $225 per stateroom on-board spending money.
All this with just one direct flight and a voyage all the way back
to Southampton gives you the opportunity to grab some quick
shopping bargains without the worry of airline flight restrictions on
the way home.
Included in the price:
• Direct 1 way BA flight from
Gatwick to Tampa
• 1 night 4 star hotel Hilton Hotel
stay in St Petersburg Florida
• 14 nights' full board cruise on
Norwegian Jade
15 NIGHTS PRICES FROM
£999PER PERSON
20
Florida. Below: Miami
Tampa
Key West
Miami
KEY WEST can be best described as Cape Cod meets the Caribbean combining the
best bits of both for its own unique blend of tropical relaxation & enjoyment. Key West
is the southern-most point of continental USA situated approximately 120 miles from
the southern tip of Florida and just 90 miles North of Cuba. It is one of the largest keys,
the most populated and the most affluent. Take some time out to wander down the
leafy lanes of the historic old town and spot some incredible mansions surrounded by
tall palm trees and tropical gardens. The rustic marina with its wooden boardwalk and
pier posts topped by pelicans is an absolute delight. Fort Zachary has an excellent uncrowded
beach and there is a good beach close to the southern-most point marker. The
shopping is great too - the real shopping begins further down Duval street away from
the cruise terminal with some wonderful art galleries and craft stores such as the Wyland
Gallery, Fast Buck Freddie's and Glass Reunions.
Fort Lauderdale
ITINERARY: Fly Gatwick to Tampa - St Petersburg - Tampa - Key West - Miami - Ponta
Delgada (Azores) - Cork - Falmouth -Southampton.
EXCLUSIVE
OFFER
• Free All Inclusive Drinks
Package on-board#
• Bonus upto $225# per
stateroom spending money
on-board
Regional flight connections
are available at a supplement.
Norwegian Jade
On-board ship take advantage of the AllInclusive drinks package in 15 bars and
lounges; there is also a theatre, casino,
nightclub, two swimming pools and four
hot tubs. Check out the spa which has a
mixed hydrotherapy pool / relaxation area
and separate his and hers thermal suites
with sauna, steam room and hot tub; plus
a beauty salon and a fitness centre. The
kids can enjoy the kids clubs, kids pool,
kids cafe, teen club with dance floor,
cinema, video arcade and the water slide.
St Petes Beach
Key West