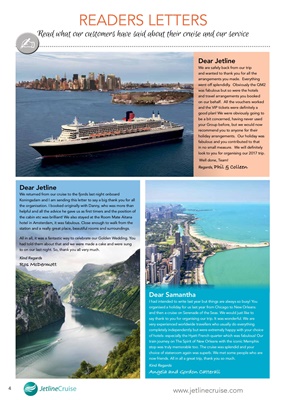 4
READERS LETTERS
Read what our customers have said about their cruise and our service
Dear Jetline
We returned from our cruise to the fjords last night onboard
Koningsdam and I am sending this letter to say a big thank you for all
the organisation. I booked originally with Danny, who was more than
helpful and all the advice he gave us as first timers and the position of
the cabin etc was brilliant! We also stayed at the Room Mate Aitana
hotel in Amsterdam, it was fabulous. Close enough to walk from the
station and a really great place, beautiful rooms and surroundings.
All in all, it was a fantastic way to celebrate our Golden Wedding. You
had told them about that and we were made a cake and were sung
to on our last night. So, thank you all very much.
Kind Regards
Ros McDermott
Dear Samantha
I had intended to write last year but things are always so busy! You
organised a holiday for us last year from Chicago to New Orleans
and then a cruise on Serenade of the Seas. We would just like to
say thank to you for organising our trip. It was wonderful. We are
very experienced worldwide travellers who usually do everything
completely independently but were extremely happy with your choice
of hotels- especially the Hyatt French quarter which was fabulous! Our
train journey on The Spirit of New Orleans with the iconic Memphis
stop was truly memorable too. The cruise was splendid and your
choice of stateroom again was superb. We met some people who are
now friends. All in all a great trip, thank you so much.
Kind Regards
Angela and Gordon Catterall
Dear Jetline
We are safely back from our trip
and wanted to thank you for all the
arrangements you made. Everything
went off splendidly. Obviously the QM2
was fabulous but so were the hotels
and travel arrangements you booked
on our behalf. All the vouchers worked
and the VIP tickets were definitely a
good plan! We were obviously going to
be a bit concerned, having never used
your Group before, but we would now
recommend you to anyone for their
holiday arrangements. Our holiday was
fabulous and you contributed to that
in no small measure. We will definitely
look to you for organising our 2017 trip.
Well done, Team!
Regards, Phil & Colleen