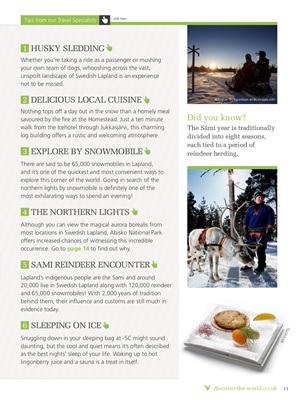 Tips from our Travel Specialists
1 HUSKY SLEDDING
Whether you're taking a ride as a passenger or mushing
your own team of dogs, whooshing across the vast,
unspoilt landscape of Swedish Lapland is an experience
not to be missed.
2 DELICIOUS LOCAL CUISINE
Nothing tops off a day out in the snow than a homely meal
savoured by the fire at the Homestead. Just a ten minute
walk from the Icehotel through Jukkasjärvi, this charming
log building offers a rustic and welcoming atmosphere.
3 EXPLORE BY SNOWMOBILE
There are said to be 65,000 snowmobiles in Lapland,
and it's one of the quickest and most convenient ways to
explore this corner of the world. Going in search of the
northern lights by snowmobile is definitely one of the
most exhilarating ways to spend an evening!
4 THE NORTHERN LIGHTS
Although you can view the magical aurora borealis from
most locations in Swedish Lapland, Abisko National Park
offers increased chances of witnessing this incredible
occurrence. Go to page 14 to find out why.
5 SAMI REINDEER ENCOUNTER
Lapland's indigenous people are the Sami and around
20,000 live in Swedish Lapland along with 120,000 reindeer
and 65,000 snowmobiles! With 2,000 years of tradition
behind them, their influence and customs are still much in
evidence today.
6 SLEEPING ON ICE
Snuggling down in your sleeping bag at -5C might sound
daunting, but the cool and quiet means it's often described
as the best nights' sleep of your life. Waking up to hot
lingonberry juice and a sauna is a treat in itself.
Did you know?
The Sámi year is traditionally
divided into eight seasons,
each tied to a period of
reindeer herding.
click here
©Ragnar TH Sigurdsson
©ICEHOTEL/Hans Olof Utsi
©ICEHOTEL