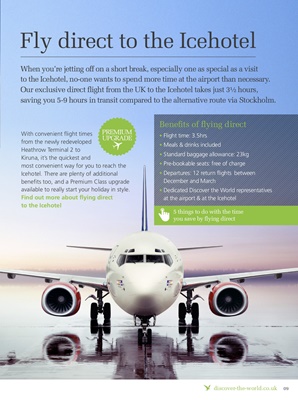 Fly direct to the Icehotel
Benefits of flying direct
• Flight time: 3.5hrs
• Meals & drinks included
• Standard baggage allowance: 23kg
• Pre-bookable seats: free of charge
• Departures: 12 return flights between
December and March
• Dedicated Discover the World representatives
at the airport & at the Icehotel
With convenient flight times
from the newly redeveloped
Heathrow Terminal 2 to
Kiruna, it's the quickest and
most convenient way for you to reach the
Icehotel. There are plenty of additional
benefits too, and a Premium Class upgrade
available to really start your holiday in style.
Find out more about flying direct
to the Icehotel
When you're jetting off on a short break, especially one as special as a visit
to the Icehotel, no-one wants to spend more time at the airport than necessary.
Our exclusive direct flight from the UK to the Icehotel takes just 3½ hours,
saving you 5-9 hours in transit compared to the alternative route via Stockholm.
PREMIUM
UPGRADE
5 things to do with the time
you save by flying direct