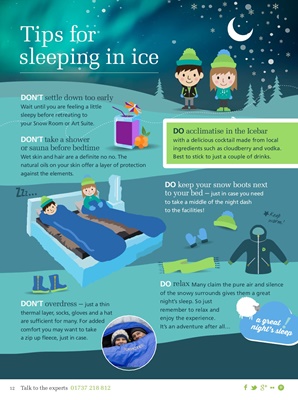 DON'T settle down too early
Wait until you are feeling a little
sleepy before retreating to
your Snow Room or Art Suite.
DON'T take a shower
or sauna before bedtime
Wet skin and hair are a definite no no. The
natural oils on your skin offer a layer of protection
against the elements.
DON'T overdress - just a thin
thermal layer, socks, gloves and a hat
are sufficient for many. For added
comfort you may want to take
a zip up fleece, just in case.
DO keep your snow boots next
to your bed - just in case you need
to take a middle of the night dash
to the facilities!
Keep
warm!
a great
night'ssleep!
Zzz…
DO relax Many claim the pure air and silence
of the snowy surrounds gives them a great
night's sleep. So just
remember to relax and
enjoy the experience.
It's an adventure after all…
sleeping in ice
Tips for
DO acclimatise in the Icebar
with a delicious cocktail made from local
ingredients such as cloudberry and vodka.
Best to stick to just a couple of drinks.
12 Talk to the experts 01737 218 812