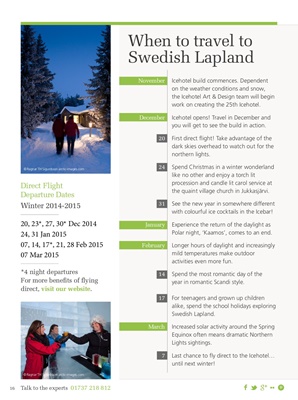 16 Talk to the experts 01737 218 812
Direct Flight
Departure Dates
Winter 2014-2015
20, 23*, 27, 30* Dec 2014
24, 31 Jan 2015
07, 14, 17*, 21, 28 Feb 2015
07 Mar 2015
When to travel to
Swedish Lapland
(*4 night departures)
For more benefits of flying
direct, visit our website.
November Icehotel build commences. Dependent
on the weather conditions and snow,
the Icehotel Art & Design team will begin
work on creating the 25th Icehotel.
December Icehotel opens! Travel in December and
you will get to see the build in action.
20 First direct flight! Take advantage of the
dark skies overhead to watch out for the
northern lights.
24 Spend Christmas in a winter wonderland
like no other and enjoy a torch lit
procession and candle lit carol service at
the quaint village church in Jukkasjärvi.
31 See the new year in somewhere different
with colourful ice cocktails in the Icebar!
January Experience the return of the daylight as
Polar night, 'Kaamos', comes to an end.
February Longer hours of daylight and increasingly
mild temperatures make outdoor
activities even more fun.
14 Spend the most romantic day of the
year in romantic Scandi style.
17 For teenagers and grown up children
alike, spend the school holidays exploring
Swedish Lapland.
March Increased solar activity around the Spring
Equinox often means dramatic Northern
Lights sightings.
7 Last chance to fly direct to the Icehotel…
until next winter!
©Ragnar TH Sigurdsson
©Ragnar TH Sigurdsson