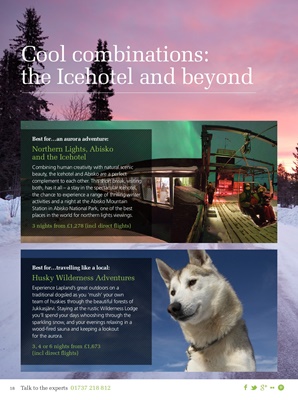 18 Talk to the experts 01737 218 812
the Icehotel and beyond
Cool combinations:
Best for…an aurora adventure:
Northern Lights, Abisko
and the Icehotel
Combining human creativity with natural scenic
beauty, the Icehotel and Abisko are a perfect
complement to each other. This short break, visiting
both, has it all - a stay in the spectacular Icehotel,
the chance to experience a range of thrilling winter
activities and a night at the Abisko Mountain
Station in Abisko National Park, one of the best
places in the world for northern lights viewings.
3 nights from £1,278 (incl direct flights)
Best for…travelling like a local:
Husky Wilderness Adventures
Experience Lapland's great outdoors on a
traditional dogsled as you 'mush' your own
team of huskies through the beautiful forests of
Jukkasjärvi. Staying at the rustic Wilderness Lodge
you'll spend your days whooshing through the
sparkling snow, and your evenings relaxing in a
wood-fired sauna and keeping a lookout
for the aurora.
3, 4 or 6 nights from £1,673
(incl direct flights)