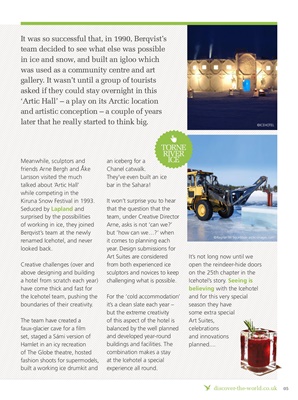 an iceberg for a
Chanel catwalk.
They've even built an ice
bar in the Sahara!
It won't surprise you to hear
that the question that the
team, under Creative Director
Arne, asks is not 'can we?'
but 'how can we…?' when
it comes to planning each
year. Design submissions for
Art Suites are considered
from both experienced ice
sculptors and novices to keep
challenging what is possible.
For the 'cold accommodation'
it's a clean slate each year -
but the extreme creativity
of this aspect of the hotel is
balanced by the well planned
and developed year-round
buildings and facilities. The
combination makes a stay
at the Icehotel a special
experience all round.
It's not long now until we
open the reindeer-hide doors
on the 25th chapter in the
Icehotel's story. Seeing is
believing with the Icehotel
and for this very special
season they have
some extra special
Art Suites,
celebrations
and innovations
planned....
It was so successful that, in 1990, Berqvist's
team decided to see what else was possible
in ice and snow, and built an igloo which
was used as a community centre and art
gallery. It wasn't until a group of tourists
asked if they could stay overnight in this
'Artic Hall' - a play on its Arctic location
and artistic conception - a couple of years
later that he really started to think big.
TORNE
RIVER
ICE
Meanwhile, sculptors and
friends Arne Bergh and Ake
Larsson visited the much
talked about 'Artic Hall'
while competing in the
Kiruna Snow Festival in 1993.
Seduced by Lapland and
surprised by the possibilities
of working in ice, they joined
Berqvist's team at the newly
renamed Icehotel, and never
looked back.
Creative challenges (over and
above designing and building
a hotel from scratch each year)
have come thick and fast for
the Icehotel team, pushing the
boundaries of their creativity.
The team have created a
faux-glacier cave for a film
set, staged a Sámi version of
Hamlet in an icy recreation
of The Globe theatre, hosted
fashion shoots for supermodels,
built a working ice drumkit and
©ICEHOTEL
©Ragnar TH Sigurdsson