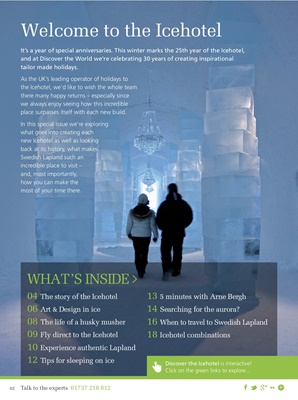 Welcome to the Icehotel
It's a year of special anniversaries. This season marks the 25th year of the Icehotel,
and at Discover the World we're celebrating 30 years of creating inspirational
tailor made holidays.
As the UK's leading operator of holidays to
the Icehotel, we'd like to wish the whole team
there many happy returns - especially since
we always enjoy seeing how this incredible
place surpasses itself with each new build.
In this special issue we're exploring
what goes into creating each
new Icehotel as well as looking
back at its history, what makes
Swedish Lapland such an
incredible place to visit -
and, most importantly,
how you can make the
most of your time there.
WHAT'S INSIDE
04 The story of the Icehotel
06 Art & Design in ice
08 The life of a husky musher
09 Fly direct to the Icehotel
10 Experience authentic Lapland
12 Tips for sleeping on ice Discover the Icehotel is interactive!
Click on the green links to explore...
02 Talk to the experts 01737 218 812
13 5 minutes with Arne Bergh
14 Searching for the aurora?
16 When to travel to Swedish Lapland
18 Icehotel combinations