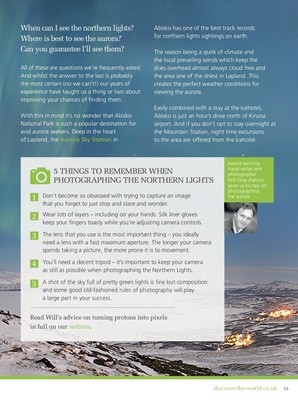 When can I see the northern lights?
Where is best to see the aurora?
Can you guarantee I'll see them?
All of these are questions we're frequently asked.
And whilst the answer to the last is probably
the most certain (no we can't!) our years of
experience have taught us a thing or two about
improving your chances of finding them.
With this in mind it's no wonder that Abisko
National Park is such a popular destination for
avid aurora seekers. Deep in the heart
of Lapland, the Aurora Sky Station in
Abisko has one of the best track records
for northern lights sightings on earth.
The reason being a quirk of climate and
the local prevailing winds which keep the
skies overhead almost always cloud free and
the area one of the driest in Lapland. This
creates the perfect weather conditions for
viewing the aurora.
Easily combined with a stay at the Icehotel,
Abisko is just an hour's drive north of Kiruna
airport. And if you don't opt to stay overnight at
the Mountain Station, night time excursions
to the area are offered from the Icehotel.
5 THINGS TO REMEMBER WHEN
PHOTOGRAPHING THE NORTHERN LIGHTS
Don't become so obsessed with trying to capture an image
that you forget to just stop and stare and wonder.
Wear lots of layers - including on your hands. Silk liner gloves
keep your fingers toasty while you're adjusting camera controls.
The lens that you use is the most important thing - you ideally
need a lens with a fast maximum aperture. The longer your camera
spends taking a picture, the more prone it is to movement.
You'll need a decent tripod - it's important to keep your camera
as still as possible when photographing the Northern Lights.
A shot of the sky full of pretty green lights is fine but composition
and some good old-fashioned rules of photography will play
a large part in your success.
Read Will's advice on turning protons into pixels
in full on our website.
1
2
3
4
5
Award winning
travel writer and
photographer
Will Gray (below)
gives us his tips on
photographing
the aurora.