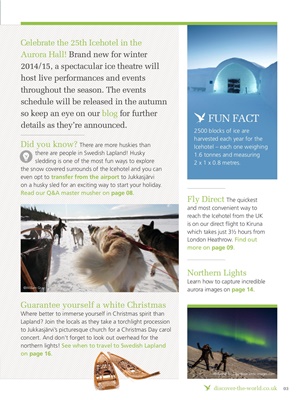 Guarantee yourself a white Christmas
Where better to immerse yourself in Christmas spirit than
Lapland? Join the locals as they take a torchlight procession
to Jukkasjarvi's picturesque church for a Christmas Day carol
concert. And don't forget to look out overhead for the
northern lights! See when to travel to Swedish Lapland
on page 16.
2500 blocks of ice are
harvested each year for the
Icehotel - each one weighing
1.6 tonnes and measuring
2 x 1 x 0.8 metres.
Did you know? There are more huskies than
there are people in Swedish Lapland! Husky
sledding is one of the most fun ways to explore
the snow covered surrounds of the Icehotel and you can
even opt to transfer from the airport to Jukkasjärvi
on a husky sled for an exciting way to start your holiday.
Read our Q&A master musher on page 08.
Celebrate the 25th Icehotel in the
Aurora Hall! Brand new for winter
2014/15, a spectacular ice theatre will
host live performances and events
throughout the season. The events
schedule will be released in the autumn
so keep an eye on our blog for further
details as they're announced. FUN FACT
Northern Lights
Learn how to capture incredible
aurora images on page 14.
Fly Direct The quickest
and most convenient way to
reach the Icehotel from the UK
is on our direct flight to Kiruna
which takes just 3½ hours from
London Heathrow. Find out
more on page 09.
©William Gray
©Ragnar TH Sigurdsson