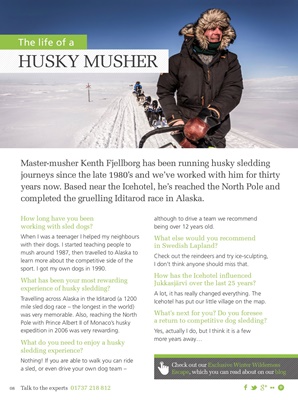 How long have you been
working with sled dogs?
When I was a teenager I helped my neighbours
with their dogs. I started teaching people to
mush around 1987, then travelled to Alaska to
learn more about the competitive side of the
sport. I got my own dogs in 1990.
What has been your most rewarding
experience of husky sledding?
Travelling across Alaska in the Iditarod (a 1200
mile sled dog race - the longest in the world)
was very memorable. Also, reaching the North
Pole with Prince Albert II of Monaco's husky
expedition in 2006 was very rewarding.
What do you need to enjoy a husky
sledding experience?
Nothing! If you are able to walk you can ride
a sled, or even drive your own dog team -
although to drive a team we recommend
being over 12 years old.
What else would you recommend
in Swedish Lapland?
Check out the reindeers and try ice-sculpting,
I don't think anyone should miss that.
How has the Icehotel influenced
Jukkasjärvi over the last 25 years?
A lot, it has really changed everything. The
Icehotel has put our little village on the map.
What's next for you? Do you foresee
a return to competitive dog sledding?
Yes, actually I do, but I think it is a few
more years away…
Master-musher Kenth Fjellborg has been running husky sledding
journeys since the late 1980's and we've worked with him for thirty
years now. Based near the Icehotel, he's reached the North Pole and
completed the gruelling Iditarod race in Alaska.
The life of a
Check out our Exclusive Winter Wilderness
Escape, which you can read about on our blog
08 Talk to the experts 01737 218 812
HUSKY MUSHER