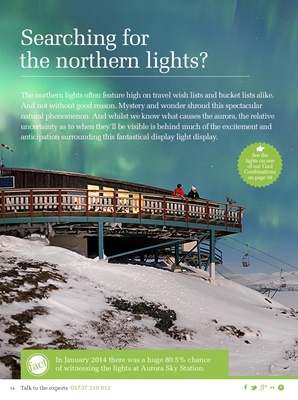 14 Talk to the experts 01737 218 812
The northern lights often feature high on travel wish lists and bucket lists alike.
And not without good reason. Mystery and wonder shroud this spectacular
natural phenomenon. And whilst we know what causes the aurora, the relative
uncertainty as to when they'll be visible is behind much of the excitement and
anticipation surrounding this fantastical display light display.
the northern lights?
Searching for
In January 2014 there was a huge 80.5% chance
of witnessing the lights at Aurora Sky Station.
fact
See the
lights on one
of our Cool
Combinations
on page 18