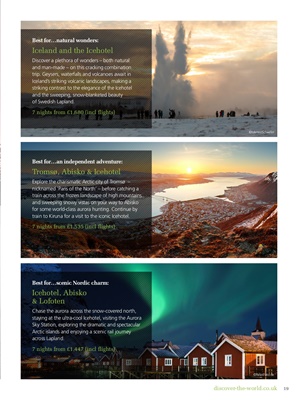 Best for…natural wonders:
Iceland and the Icehotel
Discover a plethora of wonders - both natural
and man-made - on this cracking combination
trip. Geysers, waterfalls and volcanoes await in
Iceland's striking volcanic landscapes, making a
striking contrast to the elegance of the Icehotel
and the sweeping, snow-blanketed beauty
of Swedish Lapland.
7 nights from £1,680 (incl flights)
Best for…an independent adventure:
Tromsø, Abisko & Icehotel
Explore the charismatic Arctic city of Tromsø -
nicknamed 'Paris of the North' - before catching a
train across the frozen landscape of high mountains
and sweeping snowy vistas on your way to Abisko
for some world-class aurora hunting. Continue by
train to Kiruna for a visit to the iconic Icehotel.
7 nights from £1,535 (incl flights)
Best for…scenic Nordic charm:
Icehotel, Abisko
& Lofoten
Chase the aurora across the snow-covered north,
staying at the ultra-cool Icehotel, visiting the Aurora
Sky Station, exploring the dramatic and spectacular
Arctic islands and enjoying a scenic rail journey
across Lapland.
7 nights from £1,447 (incl flights)
©MennoSchaefer