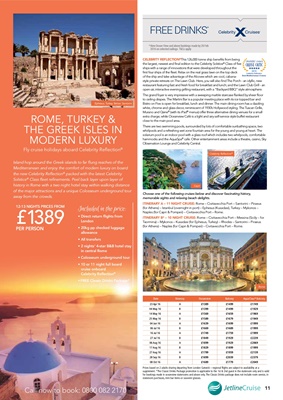 ROME, TURKEY &
THE GREEK ISLES IN
MODERN LUXURY
Fly cruise holidays aboard Celebrity Reflection®
Island hop around the Greek islands to far flung reaches of the
Mediterranean and enjoy the comfort of modern luxury on board
the new Celebrity Reflection® packed with the latest Celebrity
Solstice® Class fleet refinements. Peel back layer upon layer of
history in Rome with a two night hotel stay within walking distance
of the major attractions and a unique Colosseum underground tour
away from the crowds.
12-13 NIGHTS PRICES FROM
£1389PER PERSON
CELEBRITY REFLECTION®This 126,000 tonne ship benefits from being
the largest, newest and final edition to the Celebrity Solstice® Class of five
ships with a range of innovations that were developed throughout the
first four ships of the fleet. Relax on the real grass lawn on the top deck
of the ship and take advantage of the Alcoves which are cool, cabanastyle private retreats
on The Lawn Club. Here, you will also find The Porch - an idyllic, new
restaurant featuring fast and fresh food for breakfast and lunch; and the Lawn Club Grill - an
open-air, interactive evening grilling restaurant, with a "Backyard BBQ" style atmosphere.
The grand foyer is very impressive with a sweeping marble staircase flanked by sheer floor
to ceiling drapes. The Martini Bar is a popular meeting place with its ice topped bar and
Bistro on Five is open for breakfast, lunch and dinner. The main dining room has a dazzling
white, chrome and glass decor, reminiscent of 1930's Hollywood styling. The Tuscan Grille,
Murano and Qsine® (with its iPad® menus) offer three alternative dining venues for a small
extra charge; while Oceanview Café is a light and airy self-service style buffet restaurant
close to the main pool area.
There are two swimming pools, surrounded by lots of comfortable sunbathing space, two
whirlpools and a refreshing wet zone fountain area for the young and young at heart. The
solarium pool is an indoor pool with a glass roof which includes two whirlpools, comfortable
hammocks and the AquaSpa® cafe. Other entertainment areas include a theatre, casino, Sky
Observation Lounge and Celebrity Central.
Ephesus, Turkey. Below: Santorini
Date Itinerary Oceanview Balcony AquaClass® Balcony.
23 Apr 16 A £1389 £1499 £1749
04 May 16 B £1399 £1499 £1929
14 May 16 A £1569 £1659 £1969
25 May 16 B £1589 £1679 £1949
04 Jun 16 A £1639 £1699 £1999
06 Jul 16 B £1669 £1689 £1999
16 Jul 16 A £1749 £1759 £1999
27 Jul 16 B £1849 £1929 £2239
06 Aug 16 A £1899 £1929 £2069
17 Aug 16 B £1829 £1899 £1999
27 Aug 16 A £1799 £1959 £2139
28 Sep 16 B £1899 £2039 £2379
08 Oct 16 A £1689 £1779 £2049
Prices based on 2 adults sharing departing from London Gatwick - regional flights are subject to availability at a
supplement. *The Classic Drinks Package promotion is applicable to the 1st & 2nd guest in the stateroom only and is valid
for bookings made in oceanview staterooms and above only. The Classic Drinks package does not include room service, in
stateroom purchases, mini bar items or souvenir glasses.
Capri
Celebrity Reflection®
Choose one of the following cruises below and discover fascinating history,
memorable sights and relaxing beach delights.
ITINERARY A - 11 NIGHT CRUISE: Rome - Civitavecchia Port - Santorini - Piraeus
(for Athens) - Istanbul (overnight in port) - Ephesus (Kusadasi), Turkey - Mykonos -
Naples (for Capri & Pompeii) - Civitavecchia Port - Rome.
ITINERARY B* - 10 NIGHT CRUISE: Rome - Civitavecchia Port - Messina (Sicily - for
Taormina) - Mykonos - Kusadasi (for Ephesus, Turkey) - Rhodes - Santorini - Piraeus
(for Athens) - Naples (for Capri & Pompeii) - Civitavecchia Port - Rome.
Included in the price:
• Direct return flights from
London
• 20kg pp checked luggage
allowance
• All transfers
• 2 nights' 4-star B&B hotel stay
in central Rome
• Colosseum underground tour
• 10 or 11 night full board
cruise onboard
Celebrity Reflection®
• FREE Classic Drinks Package*
Rome
2015
Celebrity Reflection
Best Mediterranean Cruises
11
Call now to book: 0800 082 2170