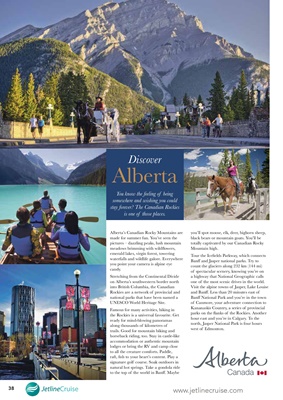 Discover
AlbertaYou know the feeling of being
somewhere and wishing you could
stay forever? The Canadian Rockies
is one of those places.
Alberta's Canadian Rocky Mountains are
made for summer fun. You've seen the
pictures - dazzling peaks, lush mountain
meadows brimming with wildflowers,
emerald lakes, virgin forest, towering
waterfalls and wildlife galore. Everywhere
you point your camera is alpine eye
candy.
Stretching from the Continental Divide
on Alberta's southwestern border north
into British Columbia, the Canadian
Rockies are a network of provincial and
national parks that have been named a
UNESCO World Heritage Site.
Famous for many activities, hiking in
the Rockies is a universal favourite. Get
ready for mind-blowing panoramas
along thousands of kilometres of
trails. Good for mountain biking and
horseback riding, too. Stay in castle-like
accommodation or authentic mountain
lodges or bring the RV and camp close
to all the creature comforts. Paddle,
raft, fish to your heart's content. Play a
signature golf course. Soak outdoors in
natural hot springs. Take a gondola ride
to the top of the world in Banff. Maybe
you'll spot moose, elk, deer, bighorn sheep,
black bears or mountain goats. You'll be
totally captivated by our Canadian Rocky
Mountain high.
Tour the Icefields Parkway, which connects
Banff and Jasper national parks. Try to
count the glaciers along 232 km (144 mi)
of spectacular scenery, knowing you're on
a highway that National Geographic calls
one of the most scenic drives in the world.
Visit the alpine towns of Jasper, Lake Louise
and Banff. Less than 20 minutes east of
Banff National Park and you're in the town
of Canmore, your adventure connection to
Kananaskis Country, a series of provincial
parks on the flanks of the Rockies. Another
hour east and you're in Calgary. To the
north, Jasper National Park is four hours
west of Edmonton.
38