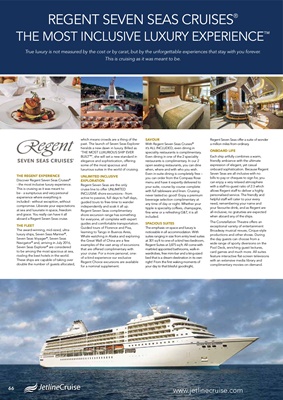 REGENT SEVEN SEAS CRUISES
®
THE MOST INCLUSIVE LUXURY EXPERIENCE™
True luxury is not measured by the cost or by carat, but by the unforgettable experiences that stay with you forever.
This is cruising as it was meant to be.
THE REGENT EXPERIENCE
Discover Regent Seven Seas Cruises®
- the most inclusive luxury experience.
This is cruising as it was meant to
be - a sumptuous and very personal
experience where everything is
included - without exception, without
compromise. Liberate your expectations
at sea and luxuriate in space, freedom
and grace. You really can have it all
aboard a Regent Seven Seas cruise.
THE FLEET
The award-winning, mid-sized, ultraluxury ships, Seven Seas Mariner®,
Seven Seas Voyager®, Seven Seas
Navigator® and, arriving in July 2016,
Seven Seas Explorer® are considered
to be among the most spacious at sea,
rivaling the best hotels in the world.
These ships are capable of taking over
double the number of guests allocated,
which means crowds are a thing of the
past. The launch of Seven Seas Explorer
heralds a new dawn in luxury. Billed as
'THE MOST LUXURIOUS SHIP EVER
BUILT
TM
', she will set a new standard in
elegance and sophistication, offering
some of the most spacious and
luxurious suites in the world of cruising.
UNLIMITED INCLUSIVE
EXPLORATION
Regent Seven Seas are the only
cruise line to offer UNLIMITED
INCLUSIVE shore excursions - from
active to passive, full days to half days,
guided tours to free-time to wander
independently and soak it all up.
Regent Seven Seas complimentary
shore excursion range has something
for everyone, all complete with expert
guides and comfortable transportation.
Guided tours of Florence and Pisa,
learning to Tango in Buenos Aires,
Whale watching in Alaska and exploring
the Great Wall of China are a few
examples of the vast array of excursions
that are offered complimentary with
your cruise. For a more personal, oneof-a-kind experience our exclusive
Regent Choice excursions are available
for a nominal supplement.
SAVOUR
With Regent Seven Seas Cruises®
it's ALL INCLUDED, even dining in
speciality restaurants is complimentary.
Even dining in one of the 2 speciality
restaurants is complimentary. In our 2
open seating restaurants, you can dine
when, where and with who you wish.
Even in-suite dining is completely free -
you can order from the Compass Rose
menu and have it expertly delivered to
your suite, course by course complete
with full tableware and linen. Cruising
never tasted so good! Enjoy a premium
beverage selection complimentary at
any time of day or night. Whether your
tipple is speciality coffees, champagne,
fine wine or a refreshing G&T, it is all
included.
SPACIOUS SUITES
The emphasis on space and luxury is
noticeable in all accommodation. With
suites ranging in size from entry level suites
at 301 sq ft to one-of-a-kind two-bedroom,
Regent Suites at 3,875 sq ft. All come with
marbled appointed bathrooms, walk-in
wardrobes, free mini-bar and a king-sized
bed that is a dream destination in its own
right! From the first waking moments of
your day to that blissful goodnight,
Regent Seven Seas offer a suite of wonder
a million miles from ordinary.
ONBOARD LIFE
Each ship artfully combines a warm,
friendly ambiance with the ultimate
expression of elegant, yet casual
onboard sophistication. Because Regent
Seven Seas are all-inclusive with no
bills to pay or cheques to sign for, you
can enjoy a very relaxed atmosphere
with a staff-to-guest ratio of 2:3 which
allows Regent staff to deliver a highly
personalised service. The friendly and
helpful staff will cater to your every
need, remembering your name and
your favourite drink, and as Regent are
all-inclusive; no gratuities are expected
when aboard any of the ships.
The Constellation Theatre offers an
exceptional variety of entertainment
Broadway musical revues, Cirque-style
productions and other shows. During
the day guests can choose from a
wide range of sporty diversions on the
Pool Deck, enriching guest lectures,
card games and much more. All suites
feature interactive flat-screen televisions
with an extensive media library and
complimentary movies-on-demand.
66