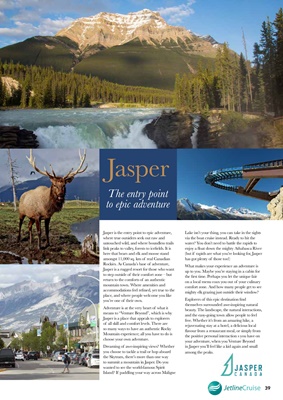 Jasper
The entry point
to epic adventure
Jasper is the entry point to epic adventure,
where true outsiders seek out raw and
untouched wild, and where boundless trails
link peaks to valley, forests to icefields. It is
here that bears and elk and moose stand
amongst 11,000 sq. km of real Canadian
Rockies. As Canada's base of adventure,
Jasper is a rugged resort for those who want
to step outside of their comfort zone - but
return to the comforts of an authentic
mountain town. Where amenities and
accommodations feel refined, yet true to the
place, and where people welcome you like
you're one of their own.
Adventure is at the very heart of what it
means to "Venture Beyond", which is why
Jasper is a place that appeals to explorers
of all skill and comfort levels. There are
so many ways to have an authentic Rocky
Mountain experience; all you have to do is
choose your own adventure.
Dreaming of awe-inspiring views? Whether
you choose to tackle a trail or hop aboard
the Skytram, there's more than one way
to summit a mountain in Jasper. Do you
wanted to see the world-famous Spirit
Island? If paddling your way across Maligne
Lake isn't your thing, you can take in the sights
via the boat cruise instead. Ready to hit the
water? You don't need to battle the rapids to
enjoy a float down the mighty Athabasca River
(but if rapids are what you're looking for, Jasper
has got plenty of those too!)
What makes your experience an adventure is
up to you. Maybe you're staying in a cabin for
the first time. Perhaps you let the unique fair
on a local menu coax you out of your culinary
comfort zone. And how many people get to see
mighty elk grazing just outside their window?
Explorers of this epic destination find
themselves surrounded awe-inspiring natural
beauty. The landscape, the natural interactions,
and the easy-going town allow people to feel
free. Whether it's from an amazing hike, a
rejuvenating stay at a hotel, a delicious local
flavour from a restaurant meal, or simply from
the positive personal interaction s you have on
your adventure, when you Venture Beyond
in Jasper you'll feel like a kid again and small
among the peaks.
39
Call now to book: 0800 082 2170