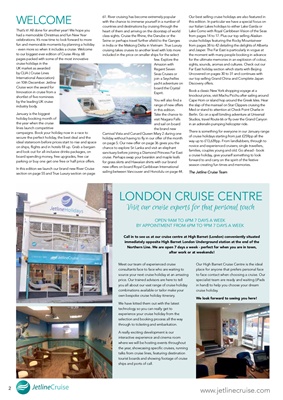 2 WELCOME
That's it! All done for another year! We hope you
had a memorable Christmas and fun New Year
celebrations. It's now time to look forward to more
fun and memorable moments by planning a holiday
- even more so when it includes a cruise. Welcome
to our biggest ever edition of Cruise Ahoy. 68
pages packed with some of the most innovative
cruise holidays in the
UK market as awarded
by CLIA ( Cruise Lines
International Association)
on 10th December. Jetline
Cruise won the award for
Innovation in cruise from a
shortlist of five nominees
by the leading UK cruise
industry body.
January is the biggest
holiday booking month of
the year when the cruise
lines launch competitive
campaigns. Book your holiday now in a race to
secure the perfect holiday, the best deal and the
ideal stateroom before prices start to rise and space
on ships, flights and in hotels fill up. Grab a bargain
and look out for all-inclusive drinks packages, on
board spending money, free upgrades, free car
parking or buy one get one free or half price offers.
In this edition we launch our brand new River Cruise
section on page 55 and True Luxury section on page
61. River cruising has become extremely popular
with the chance to immerse yourself in a number of
countries and destinations by cruising through the
heart of them and arriving on the doorstep of world
class sights. Cruise the Rhine, the Danube or the
Seine or perhaps travel further afield to the Ganges
in India or the Mekong Delta in Vietnam .True Luxury
cruising takes cruises to another level with lots more
included in the price on smaller ships for the select
few. Explore the
Amazon with
Regent Seven
Seas Cruises or
join a Seychelles
yacht adventure on
board the Crystal
Esprit.
You will also find a
range of new offers
in this edition.
Take the chance to
visit Niagara Falls
and sail on board
the brand new
Carnival Vista and Cunard Queen Mary 2 during one
holiday without having to fly in our offer of the month
on page 5. Our new offer on page 36 gives you the
chance to explore Sri Lanka and visit an elephant
sanctuary before joining a Diamond Princess Far East
cruise. Perhaps swap your bearskin and maple leafs
for grass skirts and Hawaiian shirts with our brand
new offers on board Royal Caribbean International
sailing between Vancouver and Honolulu on page 44.
Our best selling cruise holidays are also featured in
this edition. In particular we have a special focus on
our Italian Lakes holidays to either Lake Garda or
Lake Como with Royal Caribbean Vision of the Seas
from pages 14 to 17. Plus our top selling Alaskan
cruise holidays featuring the Rocky Mountaineer
from pages 38 to 42 detailing the delights of Alberta
and Jasper. The Far East is particularly in vogue at
the moment with many people booking in advance
for the ultimate memories in an explosion of colour,
sights, sounds, aromas and cultures. Check out our
Far East holiday section which starts with Beijing
Uncovered on pages 30 to 31 and continues with
our top selling Grand China and Complete Japan
Discovery offers.
Book a classic New York shopping voyage at a
knockout price, visit Machu Picchu after sailing around
Cape Horn or island hop around the Greek Isles. Hear
the slap of the mainsail on Star Clippers cruising the
Med or stand to attention at Check Point Charlie in
Berlin. Go on a spell binding adventure at Universal
Studios, travel Route 66 or fly over the Grand Canyon
in an adrenalin pumping helicopter ride.
There is something for everyone in our January range
of cruise holidays starting from just £259pp all the
way up to £13,639pp. From landlubbers, through to
novice and experienced cruisers; single travellers,
families, couples young and old. Go ahead - book
a cruise holiday, give yourself something to look
forward to and carry on the spirit of the festive
season creating fun times and memories.
The Jetline Cruise Team
Call in to see us at our cruise centre at High Barnet (London) conveniently situated
immediately opposite High Barnet London Underground station at the end of the
Northern Line. We are open 7 days a week - perfect for when you are in town,
after work or at weekends!
Meet our team of experienced cruise
consultants face to face who are waiting to
source your next cruise holiday at an amazing
price. Our trained advisors are here to tell
you all about our vast range of cruise holiday
combinations available or tailor make your
own bespoke cruise holiday itinerary.
We have kitted them out with the latest
technology so you can really get to
experience your cruise holiday from the
selection and booking process all the way
through to ticketing and embarkation.
A really exciting development is our
interactive experience and cinema room
where we will be hosting events throughout
the year, showcasing specific cruises, running
talks from cruise lines, featuring destination
tourist boards and showing footage of cruise
ships and ports of call.
Our High Barnet Cruise Centre is the ideal
place for anyone that prefers personal face
to face contact when choosing a cruise. Our
specialist team are ready and waiting (iPads
in hand) to help you choose your dream
cruise holiday.
We look forward to seeing you here!
OPEN 9AM TO 6PM 7 DAYS A WEEK
BY APPOINTMENT FROM 6PM TO 9PM 7 DAYS A WEEK
LONDON CRUISE CENTRE
Visit our cruise experts for that personal touch