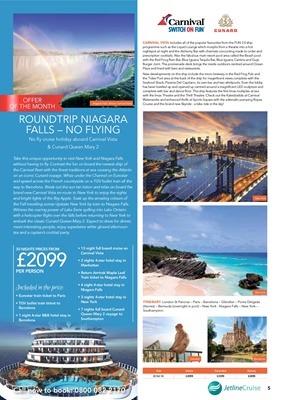 ROUNDTRIP NIAGARA
FALLS - NO FLYING
No fly cruise holiday aboard Carnival Vista
& Cunard Queen Mary 2
Take this unique opportunity to visit New York and Niagara Falls
without having to fly. Contrast the fun on board the newest ship of
the Carnival fleet with the finest traditions at sea crossing the Atlantic
on an iconic Cunard voyage. Whizz under the Channel on Eurostar
and speed across the French countryside on a TGV bullet train all the
way to Barcelona. Break out the sun tan lotion and relax on board the
brand new Carnival Vista en-route to New York to enjoy the sights
and bright lights of the Big Apple. Soak up the amazing colours of
the Fall travelling across Upstate New York by train to Niagara Falls.
Witness the roaring power of Lake Eerie spilling into Lake Ontario
with a helicopter flight over the falls before returning to New York to
embark the classic Cunard Queen Mary 2. Expect to dress for dinner,
meet interesting people, enjoy superlative white gloved afternoon
tea and a captain's cocktail party.
Included in the price:
• Eurostar train ticket to Paris
• TGV bullet train ticket to
Barcelona
• 1 night 4-star B&B hotel stay in
Barcelona
30 NIGHTS PRICES FROM
£2099PER PERSON
CARNIVAL VISTA includes all of the popular favourites from the FUN 2.0 ship
programme such as the Liquid Lounge which morphs from a theatre into a hot
nightspot at night and the Alchemy Bar with chemists concocting made to order and
prescription cocktails. Also the fabulous main resort pool area called the Beach pool
with the Red Frog Rum Bar, Blue Iguana Tequila Bar, Blue Iguana Cantina and Guys
Burger Joint. The promenade deck brings the inside outdoors centred around Ocean
Plaza and lined with bars and restaurants.
New developments on this ship include the micro brewery in the Red Frog Pub and
the Tides Pool area at the back of the ship for magnificent views complete with the
Seafood Shack, Pizzeria Del Capitano, its own bar and two whirlpools. Even the lobby
has been beefed up and opened up centred around a magnificent LED sculpture and
complete with bar and dance floor. This ship features the first Imax multiplex at sea
with the Imax Theatre and the Thrill Theatre. Check out the Kaleidoslide at Carnival
Waterworks and enhanced thrills at Sports Square with the adrenalin pumping Ropes
Course and the brand new Skyride - a bike ride in the sky!
5
Call now to book: 0800 082 2170
Niagara Falls. Below: Carnival Vista
Date Interior Oceanview Balcony
20 Oct 16 £2099 £2399 £2899
Gibraltar Barcelona
OFFER
OF THE MONTH
ITINERARY: London St Pancras - Paris - Barcelona - Gibraltar - Ponta Delgada
(Azores) - Bermuda (overnight in port) - New York - Niagara Falls - New York -
Southampton.
Bermuda
New York
• 13 night full board cruise on
Carnival Vista
• 2 nights 4-star hotel stay in
Manhattan
• Return Amtrak Maple Leaf
Train ticket to Niagara Falls
• 4 night 4-star hotel stay in
Niagara Falls
• 3 nights 4-star hotel stay in
New York
• 7 nights full board Cunard
Queen Mary 2 voyage to
Southampton