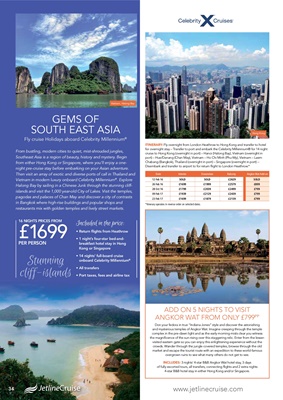 GEMS OF
SOUTH EAST ASIA
Fly cruise Holidays aboard Celebrity Millennium®
From bustling, modern cities to quiet, mist-shrouded jungles,
Southeast Asia is a region of beauty, history and mystery. Begin
from either Hong Kong or Singapore, where you'll enjoy a onenight pre-cruise
stay before embarking on your Asian adventure.
Then visit an array of exotic and diverse ports of call in Thailand and
Vietnam in modern luxury onboard Celebrity Millennium®. Explore
Halong Bay by sailing in a Chinese Junk through the stunning cliffislands and visit the 1,000 year-old
City of Lakes. Visit the temples,
pagodas and palaces of Chan May and discover a city of contrasts
in Bangkok where high-rise buildings and popular shops and
restaurants mix with golden temples and lively street markets.
Included in the price:
• Return flights from Heathrow
• 1 night's four-star bed-andbreakfast
hotel stay in Hong
Kong or Singapore
• 14 nights' full-board cruise
onboard Celebrity Millennium®
• All transfers
• Port taxes, fees and airline tax
16 NIGHTS PRICES FROM
£1699PER PERSON
Vietnam, Halong Bay
ITINERARY: Fly overnight from London Heathrow to Hong Kong and transfer to hotel
for overnight stay - Transfer to port and embark the Celebrity Millennium® for 14 night
cruise to Hong Kong (overnight in port) - Hanoi (Halong Bay), Vietnam (overnight in
port) - Hue/Danang (Chan May), Vietnam - Ho Chi Minh (Phu-My), Vietnam - Laem
Chabang (Bangkok), Thailand (overnight in port) - Singapore (overnight in port) -
Disembark and transfer to airport to for return flight to London Heathrow.*
ADD ON 5 NIGHTS TO VISIT
ANGKOR WAT FROM ONLY £799PP
Don your fedora in true "Indiana Jones" style and discover the astonishing
and mysterious temples of Angkor Wat. Imagine creeping through the temple
complex in the pre-dawn light and as the early morning mists clear you witness
the magnificence of the sun rising over this staggering relic. Enter from the lesservisited eastern gate so you can enjoy this enlightening experience without the
crowds. Wander through the jungle covered temples, browse through the old
market and escape the tourist route with an expedition to these world-famous
overgrown ruins to see what many others do not get to see.
Stunning
cliff-islands
Hong Kong
Date Interior Oceanview Balcony Angkor Wat Add-on
12 Feb 16 SOLD SOLD £2629 SOLD
26 Feb 16 £1699 £1999 £2579 £899
28 Oct 16 £1799 £2039 £2499 £799
09 Feb 17 £1939 £2129 £2439 £799
23 Feb 17 £1699 £1879 £2139 £799
*Itinerary operates in reverse order on selected dates.
INCLUDES: 3 nights' 4-star B&B Angkor Wat hotel stay, 3 days
of fully escorted tours, all transfers, connecting flights and 2 extra nights
4-star B&B hotel stay in either Hong Kong and/or Singapore.
34