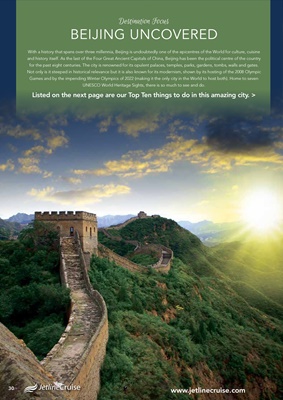 Destination Focus
BEIJING UNCOVERED
With a history that spans over three millennia, Beijing is undoubtedly one of the epicentres of the World for culture, cuisine
and history itself. As the last of the Four Great Ancient Capitals of China, Beijing has been the political centre of the country
for the past eight centuries. The city is renowned for its opulent palaces, temples, parks, gardens, tombs, walls and gates.
Not only is it steeped in historical relevance but it is also known for its modernism, shown by its hosting of the 2008 Olympic
Games and by the impending Winter Olympics of 2022 (making it the only city in the World to host both). Home to seven
UNESCO World Heritage Sights, there is so much to see and do.
Listed on the next page are our Top Ten things to do in this amazing city. >
30