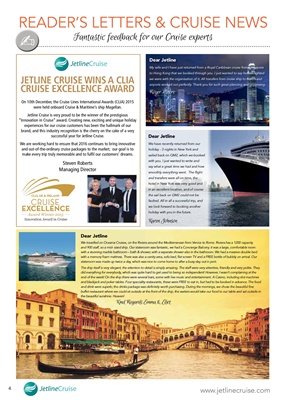 4 READER'S LETTERS & CRUISE NEWS
Fantastic feedback for our Cruise experts
Dear Jetline
My wife and I have just returned from a Royal Caribbean cruise from Singapore
to Hong Kong that we booked through you. I just wanted to say how delighted
we were with the organisation of it. All transfers from cruise ship to hotels and
airports worked out perfectly. Thank you for such great planning and organising.
Roger Moore
JETLINE CRUISE WINS A CLIA
CRUISE EXCELLENCE AWARD
On 10th December, the Cruise Lines International Awards (CLIA) 2015
were held onboard Cruise & Maritime's ship Magellan.
Jetline Cruise is very proud to be the winner of the prestigious
"Innovation in Cruise" award. Creating new, exciting and unique holiday
experiences for our cruise customers has been the hallmark of our
brand, and this industry recognition is the cherry on the cake of a very
successful year for Jetline Cruise.
We are working hard to ensure that 2016 continues to bring innovative
and out-of-the-ordinary cruise packages to the market; our goal is to
make every trip truly memorable and to fulfil our customers' dreams.
Steven Roberts
Managing Director
Dear Jetline
We travelled on Oceania Cruises, on the Riviera around the Mediterranean from Venice to Rome. Riviera has a 1200 capacity
and 900 staff, so a mid- sized ship. Our stateroom was fantastic, we had a Concierge Balcony. it was a large, comfortable room
with a stunning marble bathroom - bath & shower, with a separate shower also in the bathroom. We had a massive double bed
with a memory foam mattress. There was also a vanity area, sofa bed, flat screen TV and a FREE bottle of bubbly on arrival. Our
stateroom was made up twice a day, which was nice to come home to after a busy day out in port.
The ship itself is very elegant; the attention to detail is simply amazing. The staff were very attentive, friendly and very polite. They
did everything for everybody, which was quite hard to get used to being so independent! However, I wasn't complaining at the
end of the week! On the ship there were several bars, some with live music and entertainment. A Casino, including slot machines
and blackjack and poker tables. Four speciality restaurants, these were FREE to eat in, but had to be booked in advance. The food
and drink were superb; the drinks package was definitely worth purchasing. During the mornings, we chose the beautiful fine
buffet restaurant where we could sit outside at the front of the ship, the waiters would take our food to our table and sat outside in
the beautiful sunshine. Heaven!
Kind Regards Emma & Eliot
Dear Jetline
We have recently returned from our
holiday - 3 nights in New York and
sailed back on QM2, which we booked
with you. I just wanted to write and
say what a great time we had and how
smoothly everything went. The flight
and transfers were all on time, the
hotel in New York was very good and
in an excellent location, and of course
the sail back on QM2 could not be
faulted. All in all a successful trip, and
we look forward to booking another
holiday with you in the future.
Karen Johnson