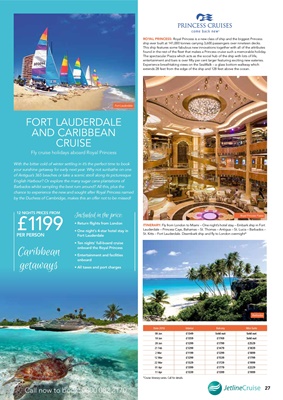 FORT LAUDERDALE
AND CARIBBEAN
CRUISE
Fly cruise holidays aboard Royal Princess
With the bitter cold of winter settling in it's the perfect time to book
your sunshine getaway for early next year. Why not sunbathe on one
of Antigua's 365 beaches or take a scenic stroll along its picturesque
English Harbour? Or explore the many sugar cane plantations of
Barbados whilst sampling the best rum around? All this, plus the
chance to experience the new and sought after Royal Princess named
by the Duchess of Cambridge, makes this an offer not to be missed!
Included in the price:
• Return flights from London
• One night's 4-star hotel stay in
Fort Lauderdale
• Ten nights' full-board cruise
onboard the Royal Princess
• Entertainment and facilities
onboard
• All taxes and port charges
12 NIGHTS PRICES FROM
£1199PER PERSON
Date 2016 Interior Balcony Mini-Suite
08 Jan £1349 Sold out Sold out
18 Jan £1359 £1769 Sold out
28 Jan £1299 £1799 £2529
21 Feb £1299 £1479 £1839
2 Mar £1199 £1299 £1899
12 Mar £1299 £1539 £1799
22 Mar £1329 £1729 £1999
01 Apr £1399 £1779 £2229
11 Apr £1339 £1399 £1999
*Cruise itinerary varies. Call for details.
ITINERARY: Fly from London to Miami - One night's hotel stay - Embark ship in Fort
Lauderdale - Princess Cays, Bahamas - St. Thomas - Antigua - St. Lucia - Barbados -
St. Kitts - Fort Lauderdale. Disembark ship and fly to London overnight*
Caribbean
getaways
ROYAL PRINCESS: Royal Princess is a new class of ship and the biggest Princess
ship ever built at 141,000 tonnes carrying 3,600 passengers over nineteen decks.
This ship features some fabulous new innovations together with all of the attributes
found in the rest of the fleet that makes a Princess cruise such a memorable holiday.
The spectacular Piazza which acts as the social hub of the ship with lots of life,
entertainment and bars is over fifty per cent larger featuring exciting new eateries.
Experience breathtaking views on the SeaWalk - a glass bottom walkway which
extends 28 feet from the edge of the ship and 128 feet above the ocean.
Fort Lauderdale
Royal Princess Piazza
Barbados 27
Call now to book: 0800 082 2170