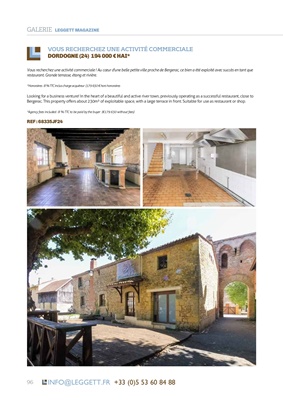 GALERIE LEGGETT MAGAZINE
info@leggett.fr +33 (0)5 53 60 84 88
96
Vous recherchez une activité commerciale ! Au cœur d'une belle petite ville proche de Bergerac, ce bien a été exploité avec succès en tant que
restaurant. Grande terrasse, étang et rivière.
*Honoraires : 8 % TTC inclus charge acquéreur (179 630 € hors honoraires
Looking for a business venture! In the heart of a beautiful and active river town, previously operating as a successful restaurant, close to
Bergerac. This property offers about 230m² of exploitable space, with a large terrace in front. Suitable for use as restaurant or shop.
*Agency fees included : 8 % TTC to be paid by the buyer (€179 630 without fees)
REF : 68335JF24
VOUS RECHERCHEZ UNE ACTIVITÉ COMMERCIALE
DORDOGNE (24) 194 000 € HAI*