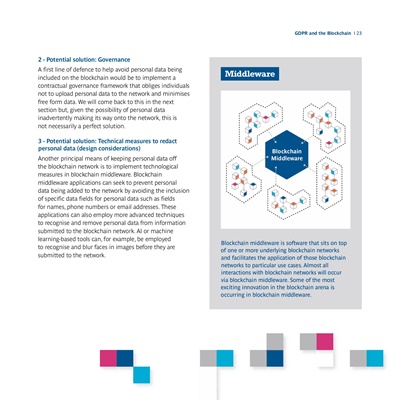 2 - Potential solution: Governance
A first line of defence to help avoid personal data being
included on the blockchain would be to implement a
contractual governance framework that obliges individuals
not to upload personal data to the network and minimises
free form data. We will come back to this in the next
section but, given the possibility of personal data
inadvertently making its way onto the network, this is
not necessarily a perfect solution.
3 - Potential solution: Technical measures to redact
personal data (design considerations)
Another principal means of keeping personal data off
the blockchain network is to implement technological
measures in blockchain middleware. Blockchain
middleware applications can seek to prevent personal
data being added to the network by avoiding the inclusion
of specific data fields for personal data such as fields
for names, phone numbers or email addresses. These
applications can also employ more advanced techniques
to recognise and remove personal data from information
submitted to the blockchain network. AI or machine
learning-based tools can, for example, be employed
to recognise and blur faces in images before they are
submitted to the network.
Middleware
Blockchain middleware is software that sits on top
of one or more underlying blockchain networks
and facilitates the application of those blockchain
networks to particular use cases. Almost all
interactions with blockchain networks will occur
via blockchain middleware. Some of the most
exciting innovation in the blockchain arena is
occurring in blockchain middleware.
Blockchain
Middleware
GDPR and the Blockchain I 23