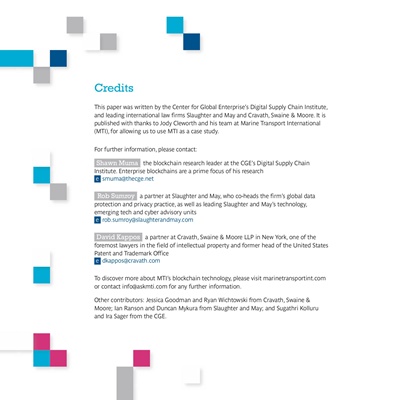 Credits
This paper was written by the Center for Global Enterprise's Digital Supply Chain Institute,
and leading international law firms Slaughter and May and Cravath, Swaine & Moore. It is
published with thanks to Jody Cleworth and his team at Marine Transport International
(MTI), for allowing us to use MTI as a case study.
For further information, please contact:
Shawn Muma the blockchain research leader at the CGE's Digital Supply Chain
Institute. Enterprise blockchains are a prime focus of his research
Rob Sumroy a partner at Slaughter and May, who co-heads the firm's global data
protection and privacy practice, as well as leading Slaughter and May's technology,
emerging tech and cyber advisory units
e rob.sumroy@slaughterandmay.com
David Kappos a partner at Cravath, Swaine & Moore LLP in New York, one of the
foremost lawyers in the field of intellectual property and former head of the United States
Patent and Trademark Office
To discover more about MTI's blockchain technology, please visit marinetransportint.com
or contact info@askmti.com for any further information.
Other contributors: Jessica Goodman and Ryan Wichtowski from Cravath, Swaine &
Moore; Ian Ranson and Duncan Mykura from Slaughter and May; and Sugathri Kolluru
and Ira Sager from the CGE.