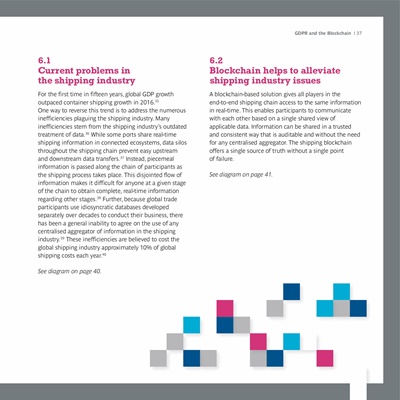 6.1
Current problems in
the shipping industry
For the first time in fifteen years, global GDP growth
outpaced container shipping growth in 2016.35
One way to reverse this trend is to address the numerous
inefficiencies plaguing the shipping industry. Many
inefficiencies stem from the shipping industry's outdated
treatment of data.36 While some ports share real-time
shipping information in connected ecosystems, data silos
throughout the shipping chain prevent easy upstream
and downstream data transfers.37 Instead, piecemeal
information is passed along the chain of participants as
the shipping process takes place. This disjointed flow of
information makes it difficult for anyone at a given stage
of the chain to obtain complete, real-time information
regarding other stages.38 Further, because global trade
participants use idiosyncratic databases developed
separately over decades to conduct their business, there
has been a general inability to agree on the use of any
centralised aggregator of information in the shipping
industry.39 These inefficiencies are believed to cost the
global shipping industry approximately 10% of global
shipping costs each year.40
See diagram on page 40.
6.2
Blockchain helps to alleviate
shipping industry issues
A blockchain-based solution gives all players in the
end-to-end shipping chain access to the same information
in real-time. This enables participants to communicate
with each other based on a single shared view of
applicable data. Information can be shared in a trusted
and consistent way that is auditable and without the need
for any centralised aggregator. The shipping blockchain
offers a single source of truth without a single point
of failure.
See diagram on page 41.
GDPR and the Blockchain I 37