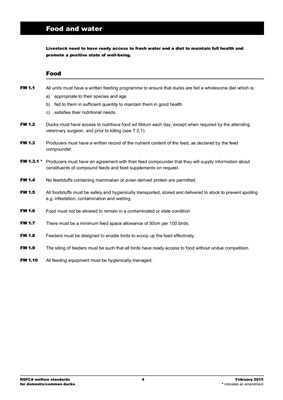 RSPCA welfare standards
for domestic/common ducks
4 February 2015
* indicates an amendment
Food and water
Livestock need to have ready access to fresh water and a diet to maintain full health and
promote a positive state of well-being.
Food
FW 1.1
All units must have a written feeding programme to ensure that ducks are fed a wholesome diet which is:
a) appropriate to their species and age
b) fed to them in sufficient quantity to maintain them in good health
c) satisfies their nutritional needs.
FW 1.2 Ducks must have access to nutritious food ad libitum each day, except when required by the attending
veterinary surgeon, and prior to killing (see T 2.1).
FW 1.3 Producers must have a written record of the nutrient content of the feed, as declared by the feed
compounder.
FW 1.3.1 * Producers must have an agreement with their feed compounder that they will supply information about
constituents of compound feeds and feed supplements on request.
FW 1.4 No feedstuffs containing mammalian or avian derived protein are permitted.
FW 1.5 All foodstuffs must be safely and hygienically transported, stored and delivered to stock to prevent spoiling
e.g. infestation, contamination and wetting.
FW 1.6 Food must not be allowed to remain in a contaminated or stale condition.
FW 1.7 There must be a minimum feed space allowance of 50cm per 100 birds.
FW 1.8 Feeders must be designed to enable birds to scoop up the feed effectively.
FW 1.9 The siting of feeders must be such that all birds have ready access to food without undue competition.
FW 1.10 All feeding equipment must be hygienically managed.