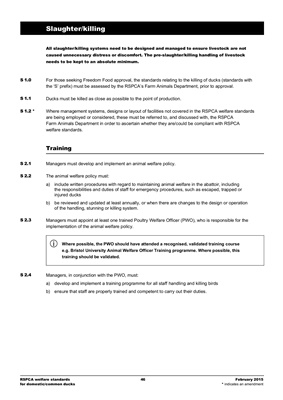 RSPCA welfare standards
for domestic/common ducks
46 February 2015
* indicates an amendment
Slaughter/killing
All slaughter/killing systems need to be designed and managed to ensure livestock are not
caused unnecessary distress or discomfort. The pre-slaughter/killing handling of livestock
needs to be kept to an absolute minimum.
S 1.0 For those seeking Freedom Food approval, the standards relating to the killing of ducks (standards with
the 'S' prefix) must be assessed by the RSPCA's Farm Animals Department, prior to approval.
S 1.1 Ducks must be killed as close as possible to the point of production.
S 1.2 * Where management systems, designs or layout of facilities not covered in the RSPCA welfare standards
are being employed or considered, these must be referred to, and discussed with, the RSPCA
Farm Animals Department in order to ascertain whether they are/could be compliant with RSPCA
welfare standards.
Training
S 2.1 Managers must develop and implement an animal welfare policy.
S 2.2 The animal welfare policy must:
a) include written procedures with regard to maintaining animal welfare in the abattoir, including
the responsibilities and duties of staff for emergency procedures, such as escaped, trapped or
injured ducks
b) be reviewed and updated at least annually, or when there are changes to the design or operation
of the handling, stunning or killing system.
S 2.3 Managers must appoint at least one trained Poultry Welfare Officer (PWO), who is responsible for the
implementation of the animal welfare policy.
Where possible, the PWO should have attended a recognised, validated training course
e.g. Bristol University Animal Welfare Officer Training programme. Where possible, this
training should be validated.
S 2.4 Managers, in conjunction with the PWO, must:
a) develop and implement a training programme for all staff handling and killing birds
b) ensure that staff are properly trained and competent to carry out their duties.