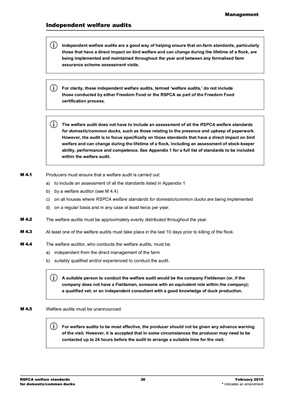 Management
RSPCA welfare standards
for domestic/common ducks
30 February 2015
* indicates an amendment
Independent welfare audits
Independent welfare audits are a good way of helping ensure that on-farm standards, particularly
those that have a direct impact on bird welfare and can change during the lifetime of a flock, are
being implemented and maintained throughout the year and between any formalised farm
assurance scheme assessment visits.
For clarity, these independent welfare audits, termed 'welfare audits,' do not include
those conducted by either Freedom Food or the RSPCA as part of the Freedom Food
certification process.
The welfare audit does not have to include an assessment of all the RSPCA welfare standards
for domestic/common ducks, such as those relating to the presence and upkeep of paperwork.
However, the audit is to focus specifically on those standards that have a direct impact on bird
welfare and can change during the lifetime of a flock, including an assessment of stock-keeper
ability, performance and competence. See Appendix 1 for a full list of standards to be included
within the welfare audit.
M 4.1 Producers must ensure that a welfare audit is carried out:
a) to include an assessment of all the standards listed in Appendix 1
b) by a welfare auditor (see M 4.4)
c) on all houses where RSPCA welfare standards for domestic/common ducks are being implemented
d) on a regular basis and in any case at least twice per year.
M 4.2 The welfare audits must be approximately evenly distributed throughout the year.
M 4.3 At least one of the welfare audits must take place in the last 10 days prior to killing of the flock.
M 4.4 The welfare auditor, who conducts the welfare audits, must be:
a) independent from the direct management of the farm
b) suitably qualified and/or experienced to conduct the audit.
A suitable person to conduct the welfare audit would be the company Fieldsman (or, if the
company does not have a Fieldsman, someone with an equivalent role within the company);
a qualified vet; or an independent consultant with a good knowledge of duck production.
M 4.5 Welfare audits must be unannounced.
For welfare audits to be most effective, the producer should not be given any advance warning
of the visit. However, it is accepted that in some circumstances the producer may need to be
contacted up to 24 hours before the audit to arrange a suitable time for the visit.