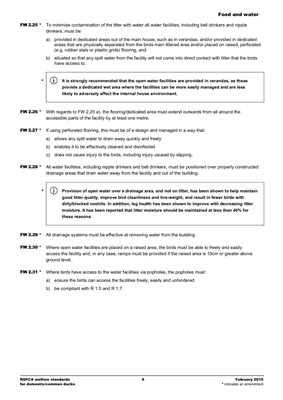 Food and water
RSPCA welfare standards
for domestic/common ducks
9 February 2015
* indicates an amendment
FW 2.25 * To minimise contamination of the litter with water all water facilities, including bell drinkers and nipple
drinkers, must be:
a) provided in dedicated areas out of the main house, such as in verandas, and/or provided in dedicated
areas that are physically separated from the birds main littered area and/or placed on raised, perforated
(e.g. rubber slats or plastic grids) flooring, and
b) situated so that any spilt water from the facility will not come into direct contact with litter that the birds
have access to.
*
It is strongly recommended that the open water facilities are provided in verandas, as these
provide a dedicated wet area where the facilities can be more easily managed and are less
likely to adversely affect the internal house environment.
FW 2.26 * With regards to FW 2.25 a), the flooring/dedicated area must extend outwards from all around the
accessible parts of the facility by at least one metre.
FW 2.27 * If using perforated flooring, this must be of a design and managed in a way that:
a) allows any spilt water to drain away quickly and freely
b) enables it to be effectively cleaned and disinfected
c) does not cause injury to the birds, including injury caused by slipping.
FW 2.28 * All water facilities, including nipple drinkers and bell drinkers, must be positioned over properly constructed
drainage areas that drain water away from the facility and out of the building.
*
Provision of open water over a drainage area, and not on litter, has been shown to help maintain
good litter quality, improve bird cleanliness and live-weight, and result in fewer birds with
dirty/blocked nostrils. In addition, leg health has been shown to improve with decreasing litter
moisture. It has been reported that litter moisture should be maintained at less than 40% for
these reasons.
FW 2.29 * All drainage systems must be effective at removing water from the building.
FW 2.30 * Where open water facilities are placed on a raised area, the birds must be able to freely and easily
access the facility and, in any case, ramps must be provided if the raised area is 10cm or greater above
ground level.
FW 2.31 * Where birds have access to the water facilities via popholes, the popholes must:
a) ensure the birds can access the facilities freely, easily and unhindered
b) be compliant with R 1.5 and R 1.7.