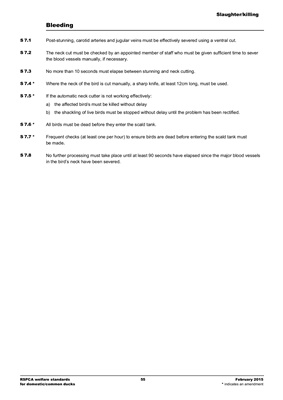 Slaughter/killing
RSPCA welfare standards
for domestic/common ducks
55 February 2015
* indicates an amendment
Bleeding
S 7.1 Post-stunning, carotid arteries and jugular veins must be effectively severed using a ventral cut.
S 7.2 The neck cut must be checked by an appointed member of staff who must be given sufficient time to sever
the blood vessels manually, if necessary.
S 7.3 No more than 10 seconds must elapse between stunning and neck cutting.
S 7.4 * Where the neck of the bird is cut manually, a sharp knife, at least 12cm long, must be used.
S 7.5 * If the automatic neck cutter is not working effectively:
a) the affected bird/s must be killed without delay
b) the shackling of live birds must be stopped without delay until the problem has been rectified.
S 7.6 * All birds must be dead before they enter the scald tank.
S 7.7 * Frequent checks (at least one per hour) to ensure birds are dead before entering the scald tank must
be made.
S 7.8 No further processing must take place until at least 90 seconds have elapsed since the major blood vessels
in the bird's neck have been severed.