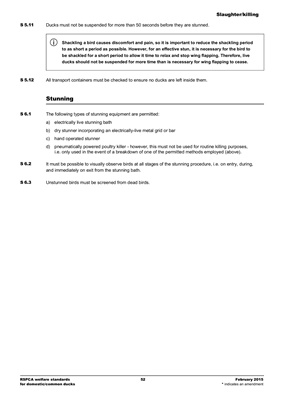 Slaughter/killing
RSPCA welfare standards
for domestic/common ducks
52 February 2015
* indicates an amendment
S 5.11 Ducks must not be suspended for more than 50 seconds before they are stunned.
Shackling a bird causes discomfort and pain, so it is important to reduce the shackling period
to as short a period as possible. However, for an effective stun, it is necessary for the bird to
be shackled for a short period to allow it time to relax and stop wing flapping. Therefore, live
ducks should not be suspended for more time than is necessary for wing flapping to cease.
S 5.12 All transport containers must be checked to ensure no ducks are left inside them.
Stunning
S 6.1 The following types of stunning equipment are permitted:
a) electrically live stunning bath
b) dry stunner incorporating an electrically-live metal grid or bar
c) hand operated stunner
d) pneumatically powered poultry killer - however, this must not be used for routine killing purposes,
i.e. only used in the event of a breakdown of one of the permitted methods employed (above).
S 6.2 It must be possible to visually observe birds at all stages of the stunning procedure, i.e. on entry, during,
and immediately on exit from the stunning bath.
S 6.3 Unstunned birds must be screened from dead birds.