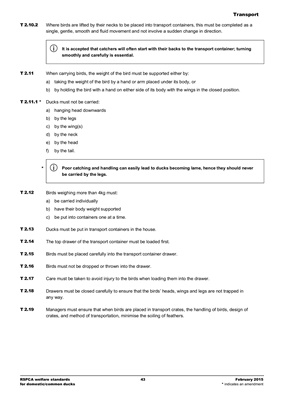 Transport
RSPCA welfare standards
for domestic/common ducks
43 February 2015
* indicates an amendment
T 2.10.2 Where birds are lifted by their necks to be placed into transport containers, this must be completed as a
single, gentle, smooth and fluid movement and not involve a sudden change in direction.
It is accepted that catchers will often start with their backs to the transport container; turning
smoothly and carefully is essential.
T 2.11 When carrying birds, the weight of the bird must be supported either by:
a) taking the weight of the bird by a hand or arm placed under its body, or
b) by holding the bird with a hand on either side of its body with the wings in the closed position.
T 2.11.1 *
Ducks must not be carried:
a) hanging head downwards
b) by the legs
c) by the wing(s)
d) by the neck
e) by the head
f) by the tail.
*
Poor catching and handling can easily lead to ducks becoming lame, hence they should never
be carried by the legs.
T 2.12 Birds weighing more than 4kg must:
a) be carried individually
b) have their body weight supported
c) be put into containers one at a time.
T 2.13 Ducks must be put in transport containers in the house.
T 2.14 The top drawer of the transport container must be loaded first.
T 2.15 Birds must be placed carefully into the transport container drawer.
T 2.16 Birds must not be dropped or thrown into the drawer.
T 2.17 Care must be taken to avoid injury to the birds when loading them into the drawer.
T 2.18 Drawers must be closed carefully to ensure that the birds' heads, wings and legs are not trapped in
any way.
T 2.19 Managers must ensure that when birds are placed in transport crates, the handling of birds, design of
crates, and method of transportation, minimise the soiling of feathers.