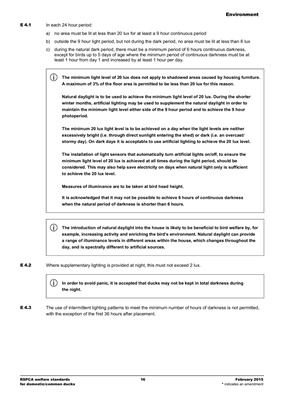 Environment
RSPCA welfare standards
for domestic/common ducks
16 February 2015
* indicates an amendment
E 4.1 In each 24 hour period:
a) no area must be lit at less than 20 lux for at least a 9 hour continuous period
b) outside the 9 hour light period, but not during the dark period, no area must be lit at less than 6 lux
c) during the natural dark period, there must be a minimum period of 6 hours continuous darkness,
except for birds up to 5 days of age where the minimum period of continuous darkness must be at
least 1 hour from day 1 and increased by at least 1 hour per day.
The minimum light level of 20 lux does not apply to shadowed areas caused by housing furniture.
A maximum of 3% of the floor area is permitted to be less than 20 lux for this reason.
Natural daylight is to be used to achieve the minimum light level of 20 lux. During the shorter
winter months, artificial lighting may be used to supplement the natural daylight in order to
maintain the minimum light level either side of the 9 hour period and to achieve the 9 hour
photoperiod.
The minimum 20 lux light level is to be achieved on a day when the light levels are neither
excessively bright (i.e. through direct sunlight entering the shed) or dark (i.e. an overcast/
stormy day). On dark days it is acceptable to use artificial lighting to achieve the 20 lux level.
The installation of light sensors that automatically turn artificial lights on/off, to ensure the
minimum light level of 20 lux is achieved at all times during the light period, should be
considered. This may also help save electricity on days when natural light only is sufficient
to achieve the 20 lux level.
Measures of illuminance are to be taken at bird head height.
It is acknowledged that it may not be possible to achieve 6 hours of continuous darkness
when the natural period of darkness is shorter than 6 hours.
The introduction of natural daylight into the house is likely to be beneficial to bird welfare by, for
example, increasing activity and enriching the bird's environment. Natural daylight can provide
a range of illuminance levels in different areas within the house, which changes throughout the
day, and is spectrally different to artificial sources.
E 4.2 Where supplementary lighting is provided at night, this must not exceed 2 lux.
In order to avoid panic, it is accepted that ducks may not be kept in total darkness during
the night.
E 4.3 The use of intermittent lighting patterns to meet the minimum number of hours of darkness is not permitted,
with the exception of the first 36 hours after placement.