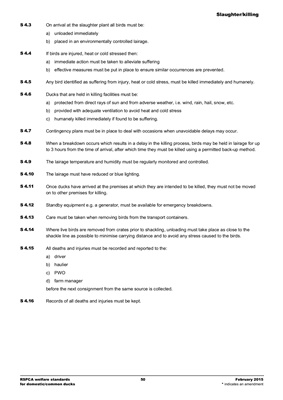 Slaughter/killing
RSPCA welfare standards
for domestic/common ducks
50 February 2015
* indicates an amendment
S 4.3 On arrival at the slaughter plant all birds must be:
a) unloaded immediately
b) placed in an environmentally controlled lairage.
S 4.4 If birds are injured, heat or cold stressed then:
a) immediate action must be taken to alleviate suffering
b) effective measures must be put in place to ensure similar occurrences are prevented.
S 4.5 Any bird identified as suffering from injury, heat or cold stress, must be killed immediately and humanely.
S 4.6
Ducks that are held in killing facilities must be:
a) protected from direct rays of sun and from adverse weather, i.e. wind, rain, hail, snow, etc.
b) provided with adequate ventilation to avoid heat and cold stress
c) humanely killed immediately if found to be suffering.
S 4.7 Contingency plans must be in place to deal with occasions when unavoidable delays may occur.
S 4.8 When a breakdown occurs which results in a delay in the killing process, birds may be held in lairage for up
to 3 hours from the time of arrival, after which time they must be killed using a permitted back-up method.
S 4.9 The lairage temperature and humidity must be regularly monitored and controlled.
S 4.10 The lairage must have reduced or blue lighting.
S 4.11 Once ducks have arrived at the premises at which they are intended to be killed, they must not be moved
on to other premises for killing.
S 4.12 Standby equipment e.g. a generator, must be available for emergency breakdowns.
S 4.13 Care must be taken when removing birds from the transport containers.
S 4.14 Where live birds are removed from crates prior to shackling, unloading must take place as close to the
shackle line as possible to minimise carrying distance and to avoid any stress caused to the birds.
S 4.15 All deaths and injuries must be recorded and reported to the:
a) driver
b) haulier
c) PWO
d) farm manager
before the next consignment from the same source is collected.
S 4.16 Records of all deaths and injuries must be kept.