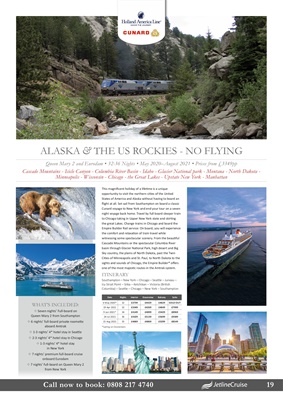 Call now to book: 0808 217 4740 19
Date Nights Interior Oceanview Balcony Suite
6 May 2020* 32 £3739 £4429 £4629 SOLD OUT
19 Apr 2021 32 £3349 £4269 £4649 £7999
9 Jun 2021* 34 £4149 £4899 £5429 £8969
24 Jul 2021 36 £4329 £5139 £5699 £9389
15 Aug 2021 35 £4069 £4869 £5299 £8549
*Sailing on Oosterdam.
ALASKA & THE US ROCKIES - NO FLYING
Queen Mary 2 and Eurodam • 32-36 Nights • May 2020-August 2021 • Prices from £3349pp
Cascade Mountains - Icicle Canyon - Columbia River Basin - Idaho - Glacier National park - Montana - North Dakota -
Minneapolis - Wisconsin - Chicago - the Great Lakes - Upstate New York - Manhattan
WHAT'S INCLUDED:
✥ Seven nights' Full-board on
Queen Mary 2 from Southampton
✥ 6 nights' full-board private roomette
aboard Amtrak
✥ 1-3 nights' 4* hotel stay in Seattle
✥ 2-3 nights' 4* hotel stay in Chicago
✥ 1-3 nights' 4* hotel stay
in New York
✥ 7 nights' premium full-board cruise
onboard Eurodam
✥ 7 nights' full-board on Queen Mary 2
from New York
This magnificent holiday of a lifetime is a unique
opportunity to visit the northern cities of the United
States of America and Alaska without having to board an
flight at all. Set sail from Southampton on board a classic
Cunard voyage to New York and end your tour on a seven
night voyage back home. Travel by full board sleeper train
to Chicago taking in Upper New York state and skirting
the great Lakes. Change trains in Chicago and board the
Empire Builder Rail service: On board, you will experience
the comfort and relaxation of train travel while
witnessing some spectacular scenery. From the beautiful
Cascade Mountains or the spectacular Columbia River
basin through Glacier National Park, high desert and Big
Sky country, the plains of North Dakota, past the Twin
Cities of Minneapolis and St. Paul, to North Dakota to the
sights and sounds of Chicago, the Empire Builder® offers
one of the most majestic routes in the Amtrak system.
ITINERARY
Southampton - New York - Chicago - Seattle - Juneau -
Icy Strait Point - Sitka - Ketchikan - Victoria (British
Columbia) - Seattle - Chicago - New York - Southampton