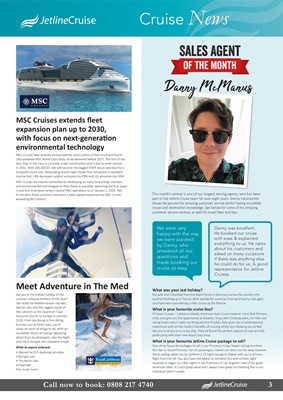 Call now to book: 0808 217 4740 3
MSC Cruises extends fleet
expansion plan up to 2030,
with focus on next-generation
environmental technology
MSC Cruises have recently announced the construction of their third and fourth
LNG-powered MSC World Class ships, to be delivered before 2027. The first of the
two ships in the class is currently under construction and is due to enter service
in 2022. With 205,000 GT, she will become the biggest EVER vessel operated by a
European cruise line. Astounding results have shown that compared to standard
marine fuel, LNG decreases sulphur emissions by 99% and CO2 emissions by 20%!
MSC Cruises are heavily committed to developing as many new energy solutions
and environmental technologies to their fleets as possible, becoming the first major
cruise line to achieve carbon-neutral fleet operations as of January 1, 2020. Not
to mention these contracts represent a total capital investment by MSC Cruises
exceeding €6.5 billion!
Meet Adventure in The Med
This month's winner is one of our longest serving agents, who has been
part of the Jetline Cruise team for over eight years. Danny consistently
shows his passion for amazing customer service whilst having incredible
cruise and destination knowledge. See below for some of his amazing
customer service reviews as well his travel likes and tips:
Cruise News
Sales Agent
of the Month
What was your last holiday?
My wife and I travelled from the Black Forest in Germany across the country into
Austria finishing up in Vienna. Both wonderful countries that we'd love to visit again
and have been considering a river cruise up the Rheine.
What is your favourite cruise line?
Princess Cruises - I adore a relaxed, American style cruise however I love that Princess
ships also give you the opportunity to breathe. Ships with climbing walls, ice rinks and
racing tracks aren't really my thing and the Princess fleet gives you a contemporary
experience with all the modern benefits of cruising whilst also allowing you to feel
like you're at sea on a cruise ship. They've found the perfect balance of new and old,
particularly with their new Royal Class ships.
What is your favourite Jetline Cruise package to sell?
One of my favourite packages to sell is our Princess cruises Hawaii sailing on either
the Star or Grand Princess. For UK passengers, Hawaii can seem too far away however
these sailings allow you to combine a 15 night voyage to Hawaii with just a 10 hour
flight from the UK. You also have the option to combine this with a three night
stopover in Vegas, or a few nights in San Francisco or Los Angeles- two of the great
American cities. It's such great value and I always have great fun tailoring this to my
individual client's needs.
We were very
happy with the way
we were assisted
by Danny, who
answered all our
questions and
made booking our
cruise so easy.
Danny was excellent.
He booked our cruise
with ease & explained
everything to us. He cares
about his customers and
asked on many occasions
if there was anything else
he could do for us. A good
representative for Jetline
Cruises.
Danny McManus
Say yes to the hottest holiday of the
summer onboard Anthem of the Seas®.
Get ready for Mediterranean marvels,
Iberian isles and the rugged coasts of
the Canaries as this Quantum Class
favourite returns to Europe in summer
2020. From sky diving to fine dining,
bumper cars to bionic bars, you'll
never be short of things to do. With an
incredible choice of sailings departing
direct from Southampton, skip the flight
and check straight into relaxation mode.
What to expect onboard:
• Ripcord by iFLY skydiving simulator
• Bumper cars
• The North Star
• Flowrider
Plus much more…