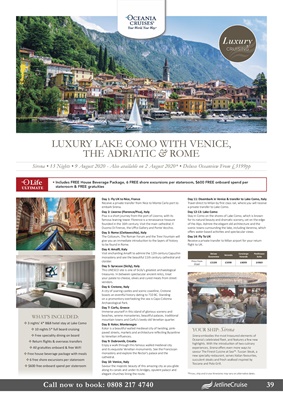 Call now to book: 0808 217 4740 39
Day 1: Fly UK to Nice, France
Receive a private transfer from Nice to Monte Carlo port to
embark Sirena.
Day 2: Livorno (Florence/Pisa), Italy
Pisa is a short journey from the port of Livorno, with its
famous leaning tower. Florence is a renaissance treasure
founded in the 16th century. Visit the main cathedral; Il
Duomo Di Firenze, the Uffizi Gallery and Ponte Vecchio.
Day 3: Rome (Civitavecchia), Italy
The Coliseum, The Roman Forum and the Trevi Fountain will
give you an immediate introduction to the layers of history
to be found in Rome.
Day 4: Amalfi, Italy
Visit enchanting Amalfi to admire the 12th century Capuchin
monastery and see the beautiful 11th century cathedral and
cloister.
Day 5: Syracuse (Sicily), Italy
This UNESCO site is one of Sicily's greatest archaeological
treasures. In between spectacular ancient relics, treat
your palate to cheese, olives and cured meats from street
vendors.
Day 6: Crotone, Italy
A city of soaring castles and scenic coastline, Crotone
boasts an eventful history dating to 710 BC. Standing
on a promontory overlooking the sea is Capo Colonna
Archaeological Park.
Day 7: Corfu, Greece
Immerse yourself in this island of glorious scenery and
beaches, serene monasteries, beautiful palaces, traditional
mountain towns and Corfu's lovely old Venetian quarter.
Day 8: Kotor, Montenegro
Kotor is a beautiful walled medieval city of twisting, pinkpaved
streets, markets and architecture reflecting Byzantine
to Venetian influences.
Day 9: Dubrovnik, Croatia
Enjoy a walk through this famous walled medieval city
and its exquisite Venetian monuments. See the Franciscan
monastery and explore the Rector's palace and the
cathedral.
Day 10: Venice, Italy
Savour the majestic beauty of this amazing city as you glide
along its canals and under its bridges, opulent palazzi and
elegant churches lining the route.
Day 11: Disembark in Venice & transfer to Lake Como, Italy
Travel direct to Milan by first class rail, where you will receive
a private transfer to Lake Como.
Day 12-13: Lake Como
Stay in Como on the shores of Lake Como, which is known
for its natural beauty and dramatic scenery, set on the edge
of the Alps. Admire the elegant old architecture and the
scenic towns surrounding the lake, including Varenna, which
offers water-based activities and spectacular views.
Day 14: Fly To UK
Receive a private transfer to Milan airport for your return
flight to UK.
LUXURY LAKE COMO WITH VENICE,
THE ADRIATIC & ROME
Sirena • 13 Nights • 9 August 2020 - Also available on 2 August 2020* • Deluxe Oceanview From £3199pp
WHAT'S INCLUDED:
✥ 3 nights' 4* B&B hotel stay at Lake Como
✥ 10 nights 5* full board cruising
✥ Free speciality dining on board
✥ Return flights & overseas transfers
✥ All gratuities onboard & free WiFi
✥ Free house beverage package with meals
✥ 6 free shore excursions per stateroom
✥ $600 free onboard spend per stateroom
Deluxe
Oceanview
Veranda
Concierge
Veranda
Penthouse
Suite
Price from
(£pp)
£3199 £3999 £4099 £4969
• Includes FREE House Beverage Package, 6 FREE shore excursions per stateroom, $600 FREE onboard spend per
stateroom & FREE gratuities
ULTIMATE
YOUR SHIP: Sirena
Sirena embodies the most treasured elements of
Oceania's celebrated fleet, and features a few new
highlights. With the introduction of two culinary
experiences, Sirena offers even more ways to
savour The Finest Cuisine at Sea™. Tuscan Steak, a
new specialty restaurant, serves Italian favourites,
succulent steaks and fresh seafood inspired by
Toscana and Polo Grill. Luxury
CRUISING
*Prices, ship and cruise itineraries may vary on alternative dates.