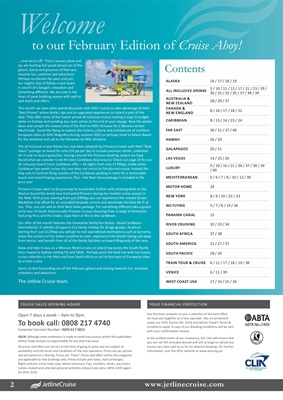 2 Open 7 days a week - 9am to 9pm
To book call: 0808 217 4740
Customer Services Number: 0203 617 5815
E&OE: Although every endeavour is made to avoid inaccuracies within this publication
Jetline Travel accepts no responsibility for any that may occur.
All prices and offers are correct at the time of going to press and are subject to
availability and the terms and conditions of the tour operators. Prices are per person
and are based on 2 sharing. Prices are "From". Prices and offers within this magazine
are applicable to new bookings only. Prices include port taxes, fuel surcharges,
flights and pre cruise hotel stays where necessary. Tips, transfers, drinks, excursions
(unless stated) and selected personal activities onboard are extra. ABTA J1693 agent
for ATOL 6153.
CRUISE SALES OPENING HOURS
Our brochure presents to you a selection of the best offers
we have put together as a tour operator. You are protected
under our ATOL licence No: 6153 and Jetline Travel's Terms &
Conditions apply. A copy of our Booking Conditions will be sent
with your confirmation invoice.
In the unlikely event of our insolvency, the CAA will ensure that
you are not left stranded abroad and will arrange to refund any
money you have paid to us for an advance booking. For further
information, visit the ATOL website at www.atol.org.uk.
YOUR FINANCIAL PROTECTION
….And we're off! That's January done and
we are hurtling full speed ahead out of the
gloom, damp and greyness of February
towards fun, sunshine and adventure.
Perhaps accelerate the pace and join
our mighty club of fellow cruise lovers
in search of a bargain, relaxation and
something different. We are now in the
heart of peak booking season with wall to
wall deals and offers.
This month we have extra special discounts with MSC Cruises to take advantage of their
"Best Promo" where drinks, tips and an upgraded experience on board is part of the
deal. They offer some of the lowest priced all-inclusive cruises making it easy to budget
while on holiday and avoiding any nasty extras at the end of your voyage. Beat the winter
blues and sample the newest ship of the fleet on MSC Virtuosa for a fabulous winter
Med break. Avoid the flying to explore the history, culture and architecture of northern
European cities on MSC Magnifica during summer 2021 or perhaps head to Miami Beach
for the weekend and sail to the Bahamas on MSC Armonia.
The all-inclusive cruise theme has now been adopted by Princess Cruises with their "Best
Value" package on board for only £35 pp per day to include premium drinks, unlimited
Wi-Fi and on-board gratuities. Having scoured the Princess booking system we have
found what we consider to be the best Caribbean deal around. Check out page 13 for our
all-inclusive Grand Circle Caribbean offer - 16 nights from only £1799pp. Unlike other
Caribbean two-week cruises this one does not return to Florida mid-cruise. Instead the
ship sails to furthest flung reaches of the Caribbean packing in more for a memorable
beach and island hoping experience. Plus - the Best Value package is included in the
price too!
Princess Cruises seem to be pressing he accelerator further with amazing deals to the
Med on board the brand new Enchanted Princess during her maiden cruise season in
the Med. With prices starting from just £999pp you can experience the newest Ocean
Medallion ship afloat for an unrivalled bespoke service and absolutely the best Wi-Fi at
sea. Plus, you can add on their Best Value package. For something different take a grand
circle tour of South America with Princess Cruises choosing from a range of itineraries
featuring Peru and the Andes, Cape Horn or Rio to the Caribbean.
Our offer of the month features the innovative family fun brand - Royal Caribbean
International. It satisfies all aspects of a family holiday for all age groups. At prices
starting from just £1299pp you will get to visit aspirational destinations such as Sorrento,
enjoy the scenery of the Italian coastline by train, experience the breath-taking sail-away
from Venice and benefit from all of the family facilities on board Rhapsody of the seas.
Relax and take it easy on a Mexican Riviera cruise or island hop across the South Pacific
from Hawaii to Sydney visiting Fiji and Tahiti. Perhaps push the boat out with our luxury
cruise collection in the Med and from South Africa or sail to the heart of European cities
on a river cruise.
Here's to fast forwarding out of the February gloom and roaring towards fun, sunshine,
relaxation and adventure.
The Jetline Cruise team.
to our February Edition of Cruise Ahoy!
Welcome
ALASKA 16 / 17 / 18 / 19
ALL INCLUSIVE DRINKS 5 / 10 / 11 / 13 / 17 / 21 / 23 / 29 /
30 / 32 / 33 / 35 / 37 / 38 / 39
AUSTRALIA &
NEW ZEALAND
28 / 29 / 37
CANADA &
NEW ENGLAND
8 / 16 / 17 / 18 / 22
CARIBBEAN 8 / 13 / 14 / 23 / 24
FAR EAST 30 / 31 / 37 / 40
HAWAII 26 / 29
GALAPAGOS 20 / 21
LAS VEGAS 14 / 25 / 26
LUXURY
9 / 10 / 16 / 21 / 36 / 37 / 38 / 39
/ 40
MEDITERRANEAN 5 / 6 / 7 / 8 / 10 / 12 / 39
MOTOR HOME 24
NEW YORK 8 / 9 / 19 / 22 / 23
NO FLYING 5 / 7 / 8 / 19 / 36
PANAMA CANAL 15
RIVER CRUISING 32 / 33 / 34
SOUTH AFRICA 37 / 38
SOUTH AMERICA 21 / 27 / 37
SOUTH PACIFIC 28 / 29
TRAIN TOUR & CRUISE 6 / 11 / 17 / 18 / 19 / 39
VENICE 6 / 11 / 39
WEST COAST USA 17 / 24 / 25 / 26
Contents