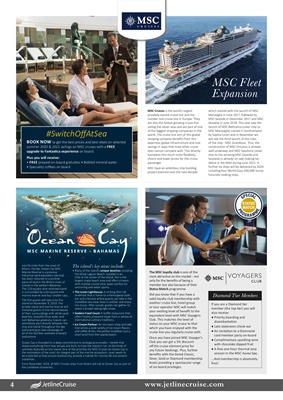 4
The MSC loyalty club is one of the
most attractive on the market - not
only for the benefits of being a
member but also because of their
Status Match programme.
Did you know that if you have a
valid loyalty club membership with
another cruise line, hotel group
or tour operator MSC will match
your existing level of benefit to the
equivalent level with MSC Voyagers
Club. This matches the level of
status on your MSC cruise to that
which you have enjoyed with the
cruise line you regularly cruise with.
Once you have joined MSC Voyager's
Club you can get a 5% discount
off the cruise element price for
any future bookings. Plus, further
benefits with the tiered Classic,
Silver, Gold or Diamond membership
levels providing a spectacular range
of on-board privileges.
If you are a Diamond tier
member (the top tier) you will
also receive:
● Priority boarding and
disembarkation
● Late stateroom check out
● An invitation to a Diamnond
card member party on-board
● Complimentary sparkling wine
with chocolate dipped fruit
● A free one-hour thermal area
session in the MSC Aurea Spa.
...And membership is absolutely
free!
Diamond Tier Members
MSC Cruises is the world's largest
privately-owned cruise line and the
number one cruise line in Europe. They
are also the fastest growing cruise line
sailing the seven seas and are part of one
of the biggest shipping companies in the
world. The cruise line arm of this global
shipping company benefits from this
expertise, global infrastructure and cost
savings in ways that most other cruise
lines cannot compete with. This directly
translates into much more flexibility,
choice and lower prices for the cruise
passenger.
MSC have an ambitious ship building
project planned over the next decade
which started with the launch of MSC
Meraviglia in June 2017, followed by
MSC Seaside in December 2017 and MSC
Seaview in June 2018. This year saw the
launch of MSC Bellissima (sister ship to
MSC Meraviglia) named in Southampton
by Sophia Loren and in November we
will see the third launch of this class
of the ship - MSC Grandiosa. Plus, the
construction of MSC Virtuosa is already
well underway and MSC Seashore (sister
ship to the amazing MSC Seaside and
Seaview) is already on sale making her
debut in the Med during June 2021. A
further six ships will be delivered by 2026
including four World Class 200,000 tonne
futuristic looking ships.
The island's key areas include:
• Many of the Island's unique beaches including
the Great Lagoon Beach: Located in an
inlet at the center of the island, this is the
largest single beach area and offers a haven
with shallow crystal-clear water perfect for
swimming and water sports.
• The iconic Lighthouse: A striking 30m tall
landmark that is home to a Hemingway-style
bar and a terrace where guests can take in the
incredible sea view, have a cocktail, and enjoy
live music. After sunset, guests can gather to
watch a breath-taking light show.
• Seakers Food Court: A buffet restaurant that
offers freshly prepared meals from a variety of
international culinary traditions.
• Ice Cream Parlour: An ice cream shop and café
that serves a wide variety of ice cream flavors
and coffee drinks, the perfect cooldown just a
short stroll from the nearby beach.
MSC Fleet
Expansion
#SwitchOffAtSea
BOOK NOW to get the best prices and best deals on selected
summer 2020 & 2021 sailings on MSC cruises with a FREE
upgrade to Fantastica experience on board.
Plus you will receive:
• FREE prepaid on-board gratuities • Bottled mineral water
• Speciality coffees on board
Just 65 miles from the coast of
Miami, Florida, Ocean Cay MSC
Marine Reserve is a previous
industrial sand extraction site that
has been restored to a pristine
piece of land in the Bimini chain of
islands in the western Bahamas.
The 120-square-acre restored island
is surrounded by a 64-square-mile
marine reserve and four smaller cays.
The first guests will step onto the
island on November 9, 2019. The
private island and marine reserve will
immerse guests in the natural beauty
of their surroundings with white sand
beaches, beautiful blue water and
lush Bahamian greenery. Guests can
seamlessly pass directly between the
ship and island throughout the day
and evening to take advantage of
all of the facilities available onboard
and ashore.
Ocean Cay is founded on a deep commitment to ecological principles - beliefs that
shape everything from how venues are built, to how the island is run, to the kinds of
activities featured on the island. One of the priorities for MSC Cruises on Ocean Cay is
the restoration of the coral. An integral part of the marine ecosystem, coral needs to
be protected as they ensure biodiversity, provide a habitat for marine life and protect
coastlines.
From November 2019, all MSC Cruises ships from Miami will call at Ocean Cay as part of
the Caribbean itineraries.