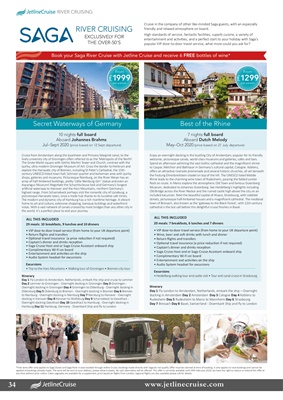 34
Cruise in the company of other like-minded Saga guests, with an especially
friendly and relaxed atmosphere on board.
High standards of service, fantastic facilities, superb cuisine, a variety of
entertainment and activities, and a perfect start to your holiday with Saga's
popular VIP door-to-door travel service, what more could you ask for?
*Free wine offer only applies to Saga Ocean and Saga River cruises booked through Jetline Cruise, bookings made directly with Saga do not qualify. Offer must be claimed at time of booking, it only applies to new bookings and cannot be
applied to bookings already made. The wine will be sent to your address, please allow 6 weeks. No cash alternative will be offered. This offer is currently available until 29th February 2020, we have the right to reduce or extend this offer at
any time without prior notice. Cabin upgrades are available for a supplement, price based on flights from London, regional flights are also available please call for details.
Itinerary
Day 1 Fly London to Amsterdam, Netherlands, embark the ship and cruise to Lemmer
Day 2 Lemmer to Groningen - Overnight docking in Groningen Day 3 Groningen -
Overnight docking in Groningen Day 4 Groningen to Oldenburg - Overnight docking in
Oldenburg Day 5 Oldenburg to Bremen - Overnight docking in Bremen Day 6 Bremen
to Nienburg - Overnight docking in Nienburg Day 7 Nienburg to Hanover - Overnight
docking in Hanover Day 8 Hanover to Wolfsburg Day 9 Scharnebeck to Geesthact -
Overnight docking Geesthact Day 10 Geesthact to Hamburg - Overnight docking in
Hamburg Day 11 Hamburg, Germany - Disembark Ship and fly to London
Itinerary
Day 1 Fly London to Amsterdam, Netherlands, embark the ship - Overnight
docking in Amsterdam Day 2 Amsterdam Day 3 Cologne Day 4 Koblenz to
Rudesheim Day 5 Rudesheim to Mainz to Mannheim Day 6 Strasbourg
Day 7 Breisach Day 8 Basel, Switzerland - Disembark Ship and fly to London
7 nights full board
Aboard Dutch Melody
May-Oct 2020 (price based on 27 July departure)
RIVER CRUISING
RIVER CRUISING
EXCLUSIVELY FOR
THE OVER-50'S
Best of the Rhine
Enjoy an overnight docking in the bustling City of Amsterdam, popular for its friendly
welcome, picturesque canals, world-class museums and galleries, cafes and bars.
Spend an afternoon admiring the vast Gothic cathedral and the magnificent shrine
to Caspar, Melchior and Balthasar in Germany's cultural capital, Cologne. Koblenz,
offers an attractive riverside promenade and several historic churches, all set beneath
the Festung Ehrenbreitstein citadel on top of the hill. The UNESCO listed Middle
Rhine leads to the charming wine town of Rüdesheim, passing the fabled Lorelei
Rock on route. In Mainz explore the atmospheric Old Town and famous Gutenberg
Museum, dedicated to Johannes Gutenberg. See Heidelberg's highlights including
Old Bridge across the River Neckar and the ruined castle high above the city on an
included excursion. Next the beautiful capital of Alsace, Strasbourg, with cobbled
streets, picturesque half-timbered houses and a magnificent cathedral. The medieval
town of Breisach, also known as the 'gateway to the Black Forest', with 12th-century
cathedral is the last call before this delightful cruise finishes in Basel.
Cruise from Amsterdam along the Ijsselmeer and Princess Margriet canal, to the
lively university city of Groningen often referred to as the 'Metropolis of the North'.
The Grote Markt square with Gothic Martini Tower and Church, contrast with the
quirky, ultra-modern Groninger Museum of Art. Cross the border to Herbrum and
explore the Hanseatic city of Bremen, including St Peter's Cathedral, the 15thcentury
UNESCO-listed town hall, Schnoor quarter and bohemian area with quirky
shops, galleries and museums. Picturesque Nienburg, on the River Weser has an
array of half-timbered buildings, pretty 'Little Nienburg Girl ' statue and even an
Asparagus Museum! Negotiate the Schachtscleuse lock and Germany's longest
artificial waterway to Hanover and the Harz Mountains, northern Germany's
highest range. From Scharnebeck perhaps visit the romantic city of Lüneburg, a
picturesque Hanseatic town, once a trade hub thanks to its lucrative salt mines.
The modern and dynamic city of Hamburg has a rich maritime heritage. A vibrant
home to art and culture, extensive shopping, baroque buildings and waterfront
vistas. With a vast network of canals crossed by more bridges than any other city in
the world, it's a perfect place to end your journey.
Book your Saga River Cruise with Jetline Cruise and receive 6 FREE bottles of wine*
ALL THIS INCLUDED
20 meals: 7 breakfasts, 6 lunches and 7 dinners
• VIP door-to-door travel service (from home to your UK departure point)
• Wine, beer and soft drinks with lunch and dinner
• Return flights and transfers
• Optional travel insurance (a price reduction if not required)
• Captain's dinner and drinks reception
• Saga Cruise Host and or Saga Cruise Assistant onboard ship
• Complimentary Wi-Fi on board
• Entertainment and activities on the ship
• Audio System headset for excursions
Excursions
• Heidelberg walking tour and castle visit • Tour and canal cruise in Strasbourg
10 nights full board
Aboard Johannes Brahms
Jul-Sept 2020 (price based on 12 Sept departure)
ALL THIS INCLUDED
29 meals: 10 breakfasts, 9 lunches and 10 dinners
• VIP door-to-door travel service (from home to your UK departure point)
• Return flights and transfers
• Optional travel insurance (a price reduction if not required)
• Captain's dinner and drinks reception
• Saga Cruise Host and or Saga Cruise Assistant onboard ship
• Complimentary Wi-Fi on board
• Entertainment and activities on the ship
• Audio System headset for excursions
Excursions
• Trip to the Harz Mountains • Walking tour of Groningen • Bremen city tour
Secret Waterways of Germany
From
£1999 per person
From
£1299 per person